We all love the continuous internet data monitoring facility on smartphones but the same things we really miss for our pc.  There can be various reasons for monitoring the Internet speed on PC. As we all know PC is built for multitasking so, at a time there can be multiple sources from which data can be consumed.  if you are a student or under a limited data plan then you must be very keen on monitoring the data consumption.
you don't want your data to be consumed on unimportant application updates. With data morning monitoring software you would be able to visualize where your data is getting consumed and eventually you will be able to prioritize the data consumption based on your requirement.
There is very limited software that does the task of monitoring internet speed correctly. So here I have shortlisted the top 3 software for Windows PC.
Read more: Dark Mode For Whatsapp: How To Get Dark Mode On Whatsapp Web
I have tried every software on my windows 10 but I expect it will work on all other older versions of windows also.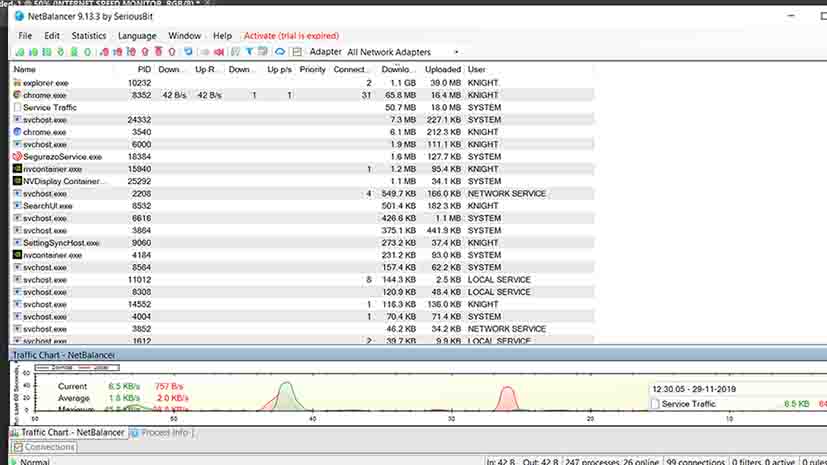 The Netbalancer is a paid app but the free service part is also more than enough. You get 30 days trial period here, after that you have to pay some amount to use its full functionality. The installation is very straightforward
Here you can actually see the internet download/upload speed on the taskbar on the right side. As you hover over the toolbar you can see the preview of softwares currently using the internet. If you double-click the toll bar then a larger window will open showing the detailed preview of all the applications currently using the data. You can track the data usage from there and also can kill the processes which are not on your priority list.
Now that gaming days are at the peak, you always try to check the Ping speed. When you hover over the toolbar you can actually see the graphical view of data speed and Ping speed. There are many other customizations available which you must explore for a better experience.
This is completely free (accepts donation) and the lightest software for monitoring the internet speed. It will create a new toolbar to show internet downloading & uploading speed. This toolbar sits next to the system tray (where the clock and the tiny icons reside), and displays download and upload speeds.
As you hover over the toolbar a pop-up screen will appear which shows the current bitrate transfer. In addition to that, it shows the monthly & daily session downloads so, that might be handy for you to determine how much data is consumed by each software in every session.
Generally, after installation, no shortcut appears n the desktop. So, go to the drive where you have installed, and open the nsmc.exe file. By default, it goes to the C drive > Program Files > NetSpeedMonitor > nsmc.exe. Once you open the nsmc.exe file it will ask you set toolbar which you must do immediately. Now by default, the toolbar monitor option remains disabled which you have to enable by right click on the toolbar and select monitor on.
#3 DU Meter
DU Meter is another internet monitoring software for windows that shows the bandwidth of the Internet, LAN, and Programmes running. It will also ask for toolbar placement after installation which you must do it. It also shows the graphical representation of downloading and uploading speed which you can minimize if you don't like it.
As you hover over the toolbar small popup windows will open showing the data sent & received. You can also set the data limit warning by this tool. Well, this and many advanced features are available on paid versions only so consider it buying if you like it.
Final words
Well, these are my personal best application for internet monitoring in windows. And each application is unique in itself so you can check out any of the above software. I have used all software at different points of time pretty much with each of them. So how was your experience with this software? Did you face any problem? Is there any other software that can find its place here? Let me know in the comment section below.