Introduction
When Internet was long reach from common people of India, JIO came from nowhere. It was like a boon for Indians, who had never thought of using free call, internet and SMSs.
From cheap data, free video call to a bunch of content-rich apps, JIO has and will continue to transform India's digital world. JIO offers many free bundled features to its users, but very few of us know that JIO offers free caller tunes feature (aka JIO caller tunes), which can be activated with very simple steps.
So here are 3 simple methods to set Jio caller tunes for absolutely free.
Set Jio caller tunes by JIO Saavn app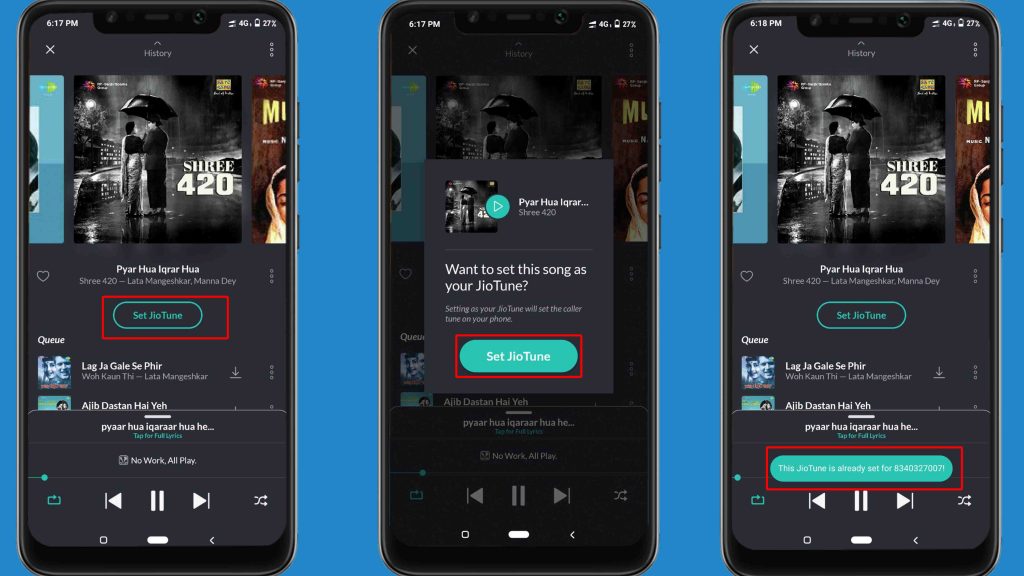 Follow below steps 
Download JIO Saavn app from playstore
Search your favourite song and play
Just below the album art of the song, Set Jio Tune button can be found
Click Set Jio Tune and the new popup page will open, again click on the button
And viola your Jio caller tune is all set.
Set Jio caller tunes by SMS
Many of us are not smart enough to do by the app so there is also a traditional method to do by sending a short SMS  JT to 56789 by Jio number. 
After some time a return message will come asking for many options like MOVIE, SONG, AlBUM etc.
The best way to do it is to type the first 3 words of your favourite song and reply to 56789.
Return message with the best result will come after some time
If it is correct to match, then just select the appropriate option and reply
Immediately you will receive a confirmation message. And that's it.
Copy caller tunes by star button
Did you like the caller tunes of your friends or relatives? Don't worry there is an option to immediately selecting that song as your caller tunes by just pressing the star (∗) button on the keypad.
Then Jio will seek your consent, which can be pressing Y or the appropriate option in the return SMS.
Immediately then a confirmation SMS will come. And that's it, you are good to go.
So here I conclude my post. If there is any doubt regarding Jio caller tunes, please comment. And if find any other alternative method, please mention in the comment section so that I will update in this post with credit.