Youtube is the greatest platform for video & music streaming. Millions of people listen to music everyday on youtube, although we have popular music streaming services such as Spotify, Wynk, Saavn, Gaana etc. It is because Youtube is faster and has vast collection of content from very old to the latest.
It might have occurred to you that sometimes you want to listen to your favourite song on repeat mode. And you have no idea how to loop youtube video, so here in this article, you will understand 4 different methods to loop Youtube video.
Table of Contents
Also read: windows 10 keyboard shortcut you Must Use in 2020
List of Methods To loop youtube video​
There are various methods to loop Youtube video; some are official, and some are external sources.
Method 1: Right Click
The feature to loop Youtube videos on PC is there from a very long time, but it's hidden. Most of the viewers know this but in case if you don't know, just right-click the mouse on the Play/Pause button, and you will get a list of options to choose. Click on "Loop" option to start looping the current video. This method will work in any browser, but the recommended browser is Google Chrome.
If this doesn't work for you, it could be because of the video, browser or the OS you are running. If you are using Chrome, then another trick can do magic for you.
Go ahead and press and hold the SHIFT key on your keyboard and then right-click on the video. While still holding down the SHIFT key, right-click again. This time you should get another menu that looks a bit different but has a loop option too.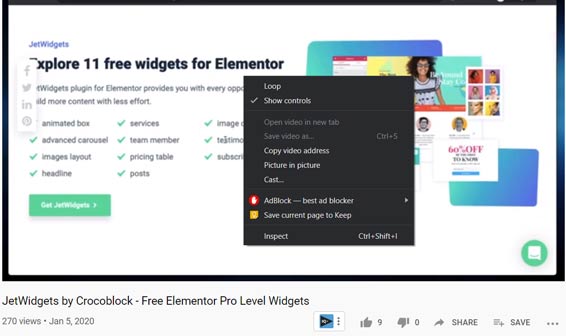 Method 2: Create Playlist
In this method, you have to create a new playlist with the song you want to play in a loop. To do this, you must be logged into youtube which you can do if you have any Gmail account. Now open the video and click on the Save button below the player. You will find the option to add the video into the existing playlist or "Create new Playlist". Click on the "Create new playlist", name the playlist and set the privacy to private or unlisted.
Now that you have created a new playlist with that video which can be accessed by clicking on the hamburger menu at the top left corner. Now go to the newly created playlist; for me, it is "Popular Video". When you play the video from a playlist, it will play in an infinite loop.
Method 3: Using Website
It seems weird that there is a website, especially for looping the youtube videos. InfiniteLooper is the website where you have to paste the video URL and hit search.
It will automatically display the video, and you will get an option to loop the entire video or let you select the specific area of the video to loop.
Method 4: Chrome Extension
If all the above option is not working, then the last step is to take advantage of the chrome extension. Add chrome extension Looper for YouTube and restart the browser for changes to take effect. This extension lets you select a specific part of the video to loop which is same as infinite looper website.
Final Word
Though there are other methods for Youtube video loop, but these are my personal favourite. Did you like the methods explained? If you have some exciting way to that, please let us know in the comment section.