Reading books on the paperback is one of the best experience, but not everyone can afford to buy every book. Instead, you can go for a much cheaper solution i.e., digital books, or rather call it an ebook. Ebooks are more economical and readily available, and many of them are free to access. There are specially designed tablets for reading ebooks, but that costs a lot, which brings us to a cheaper solution i.e., ebook reader on windows. You will get a similar experience and much more flexibility compared to the ebook tablets. Not all ebook-reader software is good; that's why we have selected the best ebook readers for you.
Best ebook reader for windows
1. Freda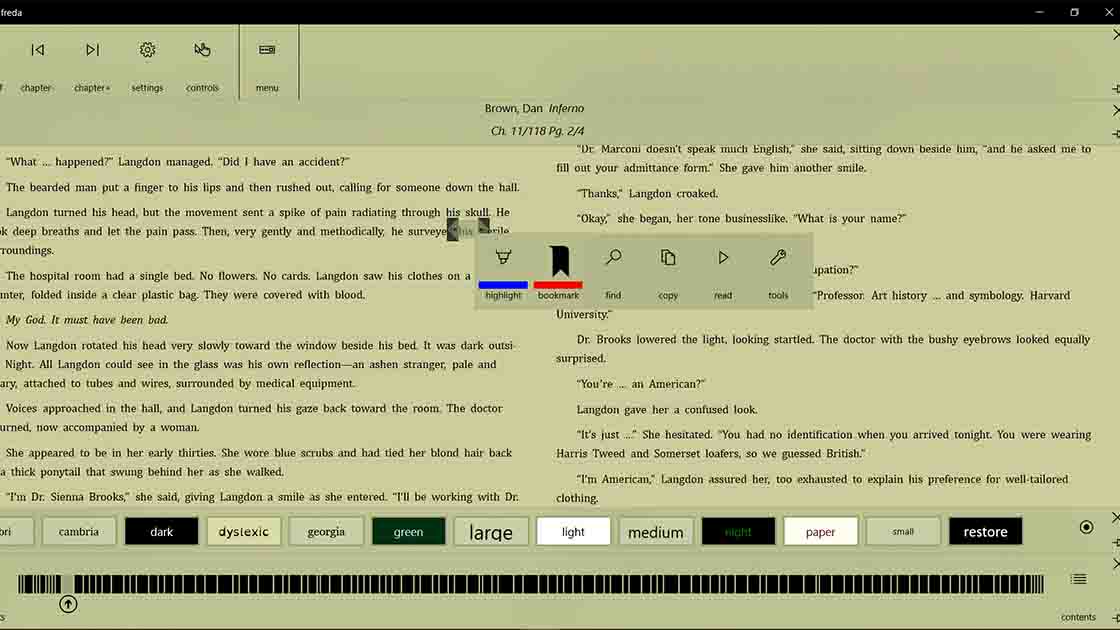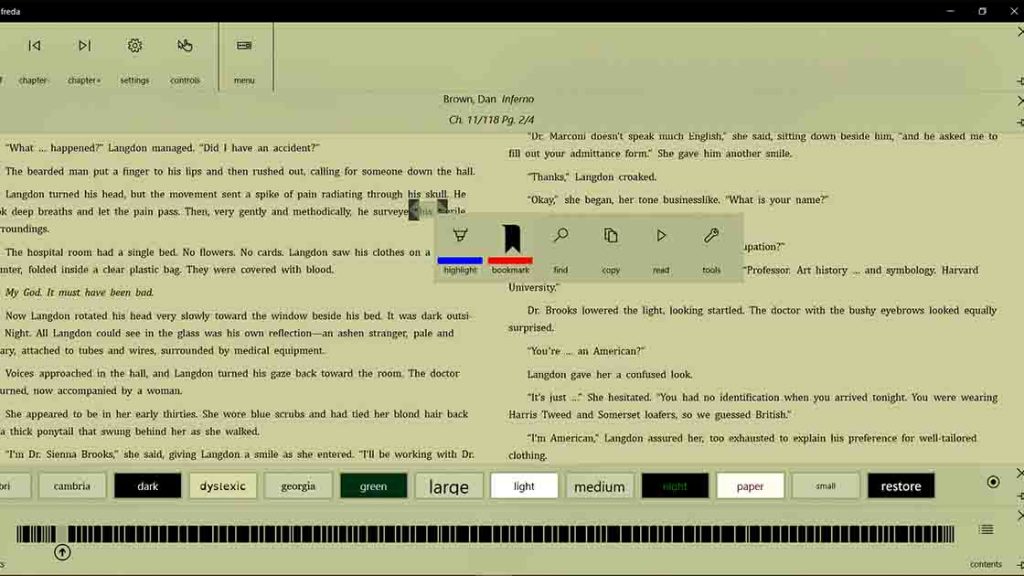 It one of my favourite free ebook reader for windows. It allows to read over 50,000 public domain classic books, free of charge, form Feedbooks, Gutenberg and other online catalogs. It supports various ebook formats like EPUB, MOB, FB2, HTML and TXT. The program offers customizable controls, fonts and colours, plus annotations and bookmarks, and the ability to look up dictionary definitions and translations, and text to speech reading. You can use Onedrive, DropBox or Calibre to share it with your phone. Offline book reading is also very smooth so you can carry on reading when you don't have network connectivity, and you can pin your favourite books to the Start page.
Freda is a free, advertising-supported app, displaying advertising at the bottom of its main page. If you don't want to see advertising, there is an in-app purchase option to remove it.  
DOWNLOAD

2. Calibre
Calibre is a very powerful and easy to use ebook reader. It will allow you to do almost everything, and it takes things a step beyond normal ebook software. It is completely free and continuously adds new features because of being an open-source. It allows not only to save metadata(things like title, author, publisher, ISBN, tags, cover, or summary) but also to create new metadata of your own.
It is compatible with almost all ebook formats and has a built-in converter to different ebooks formats. If you are traveling, then you can take calibre in the USB drive and use it anywhere. You can share and backup your library very easily. Calibre can automatically deliver stories to your device from hundreds of news sources like The Economist, New York Times, The Guardian, BBC News, etc.
3. Adobe Digital Edition
We all know Adobe for PDF reader, Photoshop & Premiere Pro, but very few know that they have fully functional Ebook readers, which is free to use. It is a very lightweight ebook reader that supports major ebook formats (EPUB 3, PDF, etc.). It provides the user with a rich experience by bringing support for the right to left reading, dynamic mage sizing, interactive quizzes, etc.
Also read: What Are The 8 Must Have Apps For Whatsapp Users
4. Icecream Ebook Reader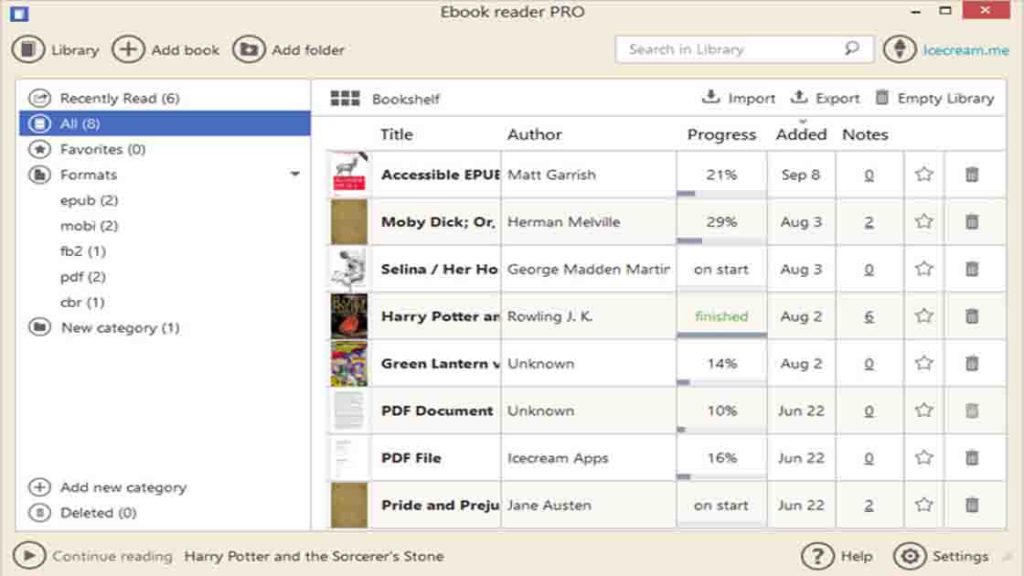 Icecream is very much popular for a screen recorder, but it has several other useful products, one of my favorite among them is the ebook reader. This Reader enables you to read ebooks in EPUB, MOBI, FB2, PDF, and other popular formats. This program also features the ability to turn pages, use bookmarks, add notes, translate text, search your library, track reading progress, and much more.
You can make best you of it in fullscreen mode, Night mode for low light situation & book mode ( transform the entire screen into a real book for maximum comfort).
5. Sumatra PDF
Don't mislead by its name Sumatra PDF; basically, it is a complete ebook-reader package. It provides support for almost all book formats like PDF, ebook(epub, Mobi), XPS, DjVu, CHM, Comic Book. It is one of the most powerful, lightweight and portable ebook readers. This reader has a minimalistic setting, which makes the interface very clean and attractive.
Bonus package
Readium is an extension based ebook reader which works flawlessly with a chrome browser extension. So you don't have to download any external software, just an extension will do your task. If you want to read online then just upload you epub document and access it anywhere. This is the best solution for those who are on the move always and want to keep up their book reading passion.
Final Words
Above mentioned are the best picks for free ebook reading. If i missed something or you have some other apps which should have been mentioned here please drop a link in the comment section.
If you find this article helpful then share among your friends and subscribe to our youtube channel.