Whatsapp is unarguably the most popular messenger app, and Facebook is making sure no stones unturned to keep it way ahead of its competitors. Whatsapp is most popular but not the best app from point of view of catchy features. It is more popular for its clean interface and security. It pushes regular updates with new features but still there are some features which we all miss and want it to be part of whatsapp chat, but no luck.
Well, we are not completely out of luck, there are other third party apps which can take Whatsapp chat to another level. Yeah this is possible, you heard it right. Below are my choices of best app which can grab your attention and might become part of your permanent apps.
List of Best apps for whatsapp
1. Direct Chat
Download & install this app from the above download link and allow all the permissions. Direct chat is a unique app that reads the notification and converts them into chat heads like facebook messenger. You should go through the tons of customization for styling and basic settings to get the best out of this application.
Not only WhatsApp, but it also supports many applications, and by default, all messengr apps are selected, so make sure to choose Whatsapp only. The only problem with this app is that it stores messages received just recently, doesn't give facility to scroll through old messages.
Also read: How to backup whatsapp chat
2. Latest whats status
Whatsapp was first to introduce the status feature for 24 hr, which automatically disappears. Some users change it occasionally, and some do regularly, but everyone puts up a status update. Before putting text status, we spend a lot of time searching for the perfect slogan for a specific situation or occasion. It is very hectic and time-consuming, and why should we do this if we have an app which can provide readymade status messages for free.
All you have to do is download and install it from the above link. Open the app and scroll through status messages of all categories. Select any category from the list of all categories and go through the status message. Open message where there is an option to copy or share as a status message directly to Whatsapp. The app is entirely free but stuffed with annoying ads.
Also read:  Google camera 7.0 for POCO F1 | Oneplus | Realme | Redmi devices
3. Transcriber for whatsapp
Sometimes when you receive a voice, Whatsapp message but don't want to listen in the open. It might be some secret message or message from loved ones that you can't hear without a pair of headphones. So you are not entirely out of luck, Transcriber for Whatsapp can translate this voice message for you.
Here is how you can do it
1. Download and install from above link in your device (allow all permission is prompted)
2. Press and hold the voice message to select and then go for share option
3. From the share, menu choose share option to transcribe
4. The copy will appear on the overlay, and translation takes time depending on the voice message duration.
The essential feature is free to use with ads, although in-app purchases can remove ads and add some extra features. It supports language other than English also so make sure to check out setting thoroughly.
Also read: 4 best android data recovery software
4. Autoresponder for WA
When you are too busy to reply but don't want to discourage or lose your customers. At those occassion we want someone to reply on our behalf. That's why an Auto responder is a must-have app for those who are using Whatsapp number for professional purposes. You have been using an autoresponder for emails for a long time, but now Whatsapp also has significant business coverage. Essential features are free, but to unlock full functionality in-app purchase is available.
This app is very straight forward with a very clean interface. Just press the plus icon at the bottom right to create an auto-reply message of your own.
Fill "received a message" with your choice and then fill the reply message with your custom version of the text. As for me, I've filled received a message with "Hii" & reply message with "hey guys I'm out of time. I'll be returning by 17th Oct". So whenever someone texts me a "Hii" message from someone, then the automatic reply message will be "hey guys I'm out of time. I'll be returning by 17th Oct". There is also a possibility to choose selected contacts for auto-reply.
5. Fake chat whatsapp
This app doesn't add something to Whatsapp, but I couldn't stop me from sharing this app. This app is used to created fake Whatsapp messages which you must have seen in some prank Facebook or Instagram pages.
This is a very useful app for those who make memes on Whatsapp or celebrity-related posts. This app is frequently used for pranking your friends for fake chats, all in a way it's a fun app.
So here is how you can create a fake Whatsapp chat
1. Click on the new message icon on the bottom right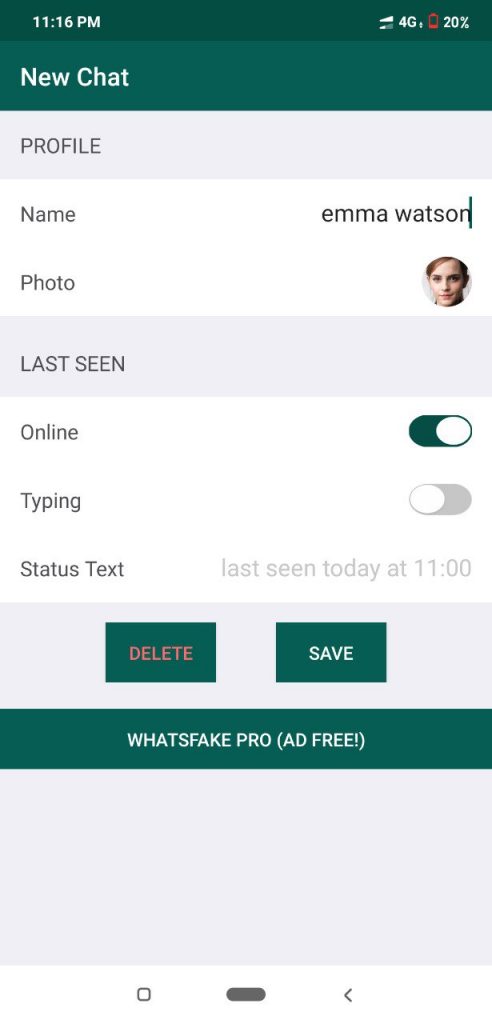 2. Now the next page opens which an option to fill name, profile picture & last seen details. Fill out those details to create a fake contact, as i did for "Emma Watson".
3. Now start typing the message in the message box. Once the message is typed, an option to send the message as yourself or friend will appear which can be switched by clicking on the highlighted icon.
Also read:  What is the difference between 4G and 5G
6. Sticker Maker
Sticker is a very awesome feature, but it came very very late on Whatsapp after continued demand by users. Whatsapp not only brought sticker feature but made flexibility to add sicker from third-party apps. As a return, many apps swarmed with new stickers for Whatsapp, and one unique concept came to create sticker from your photo. It's very cool to make a sticker from your image and send it to your loved ones.
So here are the steps to do this:-
1. Download & install the app from the above link
2. Now click on create a new sticker pack
3. Fill Stickerpack name and Stickerpack author & click create to create a stickerpack
4. Now select any tray icon and take a photo or select a photo from the gallery
5. Now crop it by freehand or leave as it is. Then click YES, SAVE STICKER to save it
6. Now make three stickers by repeating above steps and click ADD TO WHATSAPP.
7. CropShop
Whatsapp only allows square photo in the profile picture, but we always want own full-size photo to display. There was a time when Instagram had the same problem, but Instagram realised early. Whatsapp has yet to learn from Instagram; till then, we have CropShop for our rescue.
Doing this is very simple and straightforward. Just select any photo from the gallery, this will convert image into a square shape. A basic setting to control the square area blur and modes change will be available. After tuning all the configuration, save it to the gallery and use in Whatsapp.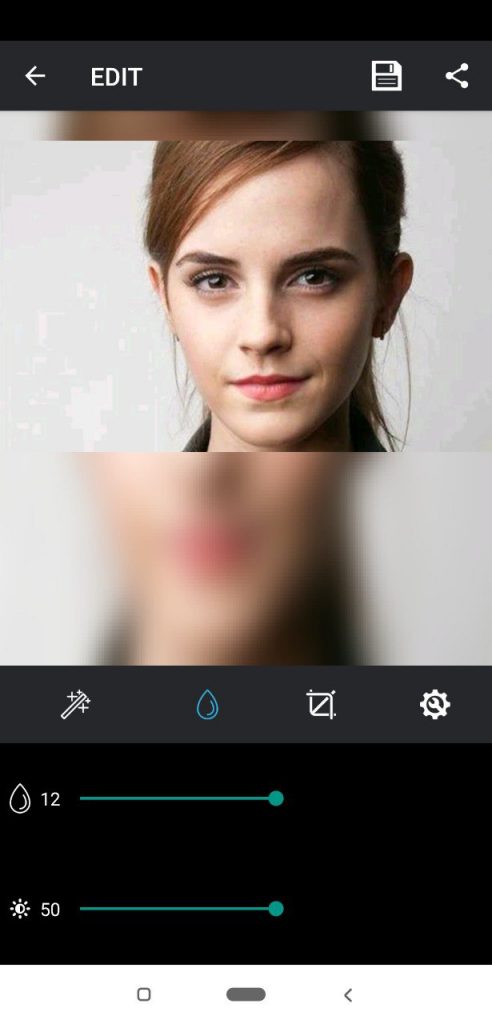 8. Status Saver
We all love to scroll through the Whatsapp status of our close contacts. Many times we like the WhatsApp status so much that we urge to download that status. But there is no built-in method to download the status image or video.
So what, if Whatsapp doesn't have this feature we have found an app for you. All you have to do is to download and install this app from the above link. Open this app, and the main page will display all the Whatsapp status updates right onto the top. Click on any of the messages to open and click save to download into your gallery.
Wrapping up
So these are my favourite apps for Whatsapp as of now. Did I miss anything? If so, please mention the app name in the comment section. We will update these apps and if any new app comes in the market. These apps have helped me a lot and will help you too.
If you found this article helpful, please share among friends.