Whenever you write an email to anyone adding a signature gives a professional look. The signature also makes it easy for someone to contact you because it contains all the useful information. Well everyone knows the importance of adding a signature in their mail. But adding a signature manually to every email is a tedious task. Don't worry we have you covered hair in the below article she will learn how to automatically add signature in Gmail.
How to add signature in Gmail?
Before going into the details of adding a signature you must make a signature template ready for which you want to apply.
Step 1: Go to gmail.com and log in with your Gmail ID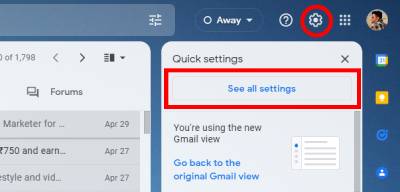 Step 2: Look in the top right corner and click on the gear icon > See all settings
Also read: 
Step 3: Next go to the general tab and scroll down to the bottom where you can find the signature.
Step 4: In the signature box you can create a beautiful signature using text and even images. You can even create multiple signatures and keep them saved here for various purposes.
Step 5: once you are done with setting signatures when scrolling to the bottom and click save changes.
This is the easiest way to add signature in Gmail and everyone should set up a signature for their email whether they are using Gmail or any other email. Every email has this signature feature and this signature makes you look professional in front of everyone.