Amazon Associates is one of the most successful affiliate programs running right now. Amazon has builtin an affiliate link generator for desktop sites. If you are an associate then probably you would be using sitestrip for creating an amazon affiliate for any product. Although it is very convenient for desktop but very difficult when it comes to mobile devices.
Now the Playstore has many application which tries to create the amazon affiliate link but they were also not very reliable and usually time taking. So, we are left with only one option to open amazon in desktop mode and then create an affiliate link. Although it works as it should but again is not user-friendly.
So many associates across the world were asking amazon to create a user-friendly setting for smartphone users. Well now its possible, Amazon has introduced must easier way to create affiliate link with the updated Amazon application.




Amazon Affiliate Link Generator for Smartphone

Go to the product page and click Share
Then click Copy Associates Link
Get a short URL with your Associates tags built
The copied link can then be pasted into content or in reply to comments on your own social posts
Also read: How to Create Youtube Auto Subscribe Link
Note: Make sure you are logged into the Amazon shopping app with the same credentials attached to your associates account for GetLink to be activated.
Here is the video tutorial to make things easier for you:-
Note: If a product is ineligible for commissions, you will receive a message saying mobile links are not available.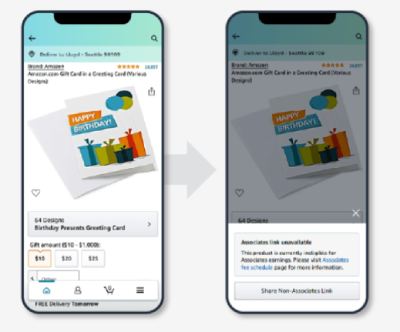 Final words
So this is how you can use Amazon Affiliate Link Generator for any amazon products. This website is supported by earnings from Amazon affiliates So if you like this article and want to support then please join our
Telegram Deals Channel(India)
. And if you are an associate having any doubts please comment below.