If you are on this blog it means you or someone has accidentally deleted files from your android smartphone. I am sure it has happened with almost all of you at some point in time. And you will regret after going through it that why didn't we find this article before.
Many software or applications often boast of recovery every bit of deleted files but they fail to do that. And that's not easy to recover every bit because of several reasons. There are many paid software to do that but that's not what we want. The below article will discuss the application of only free software & application and no root access is required. 


 Disclaimer: I am not responsible for anything unusual happens to your phone.
Diskdigger
Dumpster
Recuva data recovery
Wondershare Dr. Fone
Also read: How to Recover Deleted Files in Windows 10
Recover files using android apps
1. Diskdigger
It runs both on a rooted and unrooted device but the rooted device has some deep digging features which include system files also. And with an unrooted phone, it provides only provide basic photo scan. 
Download and install from the above link and open the app. Select START BASIC PHOTO SCAN > select file and click  RECOVER  > Save file.
– Only image file can be recovered in free version
– Saving file on drive and FTP requires pro version
– Only image file can be recovered in free version
– Saving file on drive and FTP requires pro version
2. Dumpster
This app is a full-featured application but you need to pay price for using the full feature. But there is a way out for that, you have to watch an and for one file recovery, fair enough.
Download and install the app from the above download button. Open app > start Deep Scan Recovery > select the file and send it to dumpster > watch an ad or start the 7-day trial. 
After the recovery file will go to the dumpster folder.
If these android apps didn't satisfy you then desktop software will surely serve your purpose
Recover files using PC software
1. Recuva file recovery
Recuva is one of the best free file recovery software, it can restore deleted files from any drive whether internal or external. This software can scan not only PC or MAC but also storage devices, USB drives and hard drives, CD/MP3 players and other devices that have been damaged, corrupted or reformatted. It is easy to use and it is a very effective file recovery software. Unlike other software, Recuva boasts a portable version that doesn't require any installation. The interface is very clean and easy to navigate, anyone can do it. Still, you find it difficult then visit this article for step by step process.
Price: Free and Paid
2. Wondershare Dr. Fone
This software is another wonderful product of Wondershare which is more popular for Video editing software Filmora. Dr. Fone complete solution for mobile as it offers much more than just recovery.
Dr. Fone can lot with the paid version
unlock phone
Repair
Migrate data from one phone to another
Backup & restore
Erase permanently
Recover from broken phone
Also read: Use Google Photos for Auto Backup in Windows 10
Now download and install from the above download button and the interface will look like this.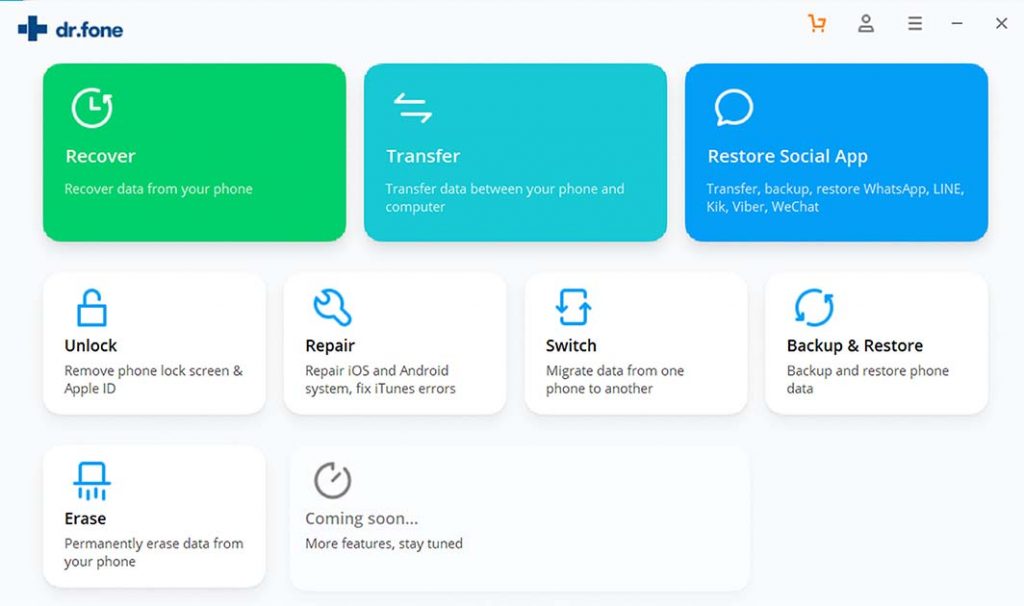 – This requires USB debugging to be on
– This process may root and then unroot the device ( so be careful )
USB debugging must be on to use this software. So just connect android with PC through USB cable. It will automatically detect the phone, later select the recover. This will lead to the anther page where you have to select the file types to recover. Just select and go next to scan.
Price: The base software is free for only scanning deleted files but to recover you need to buy the full version.
Wrapping Up
So all methods discussed above are worth doing but it depends how much worth your data. If the file types are images Diskdigger, Dumpster & Recuva is best but the data is other than images then go for Recuva, Dr Fone paid version. Recuva free version is still the best as it can recover all file types to some size limit.