What is Astrophotography?
Astrophotography is the photography of astronomical objects, celestial events, and areas of the night sky. It is simply taking a photograph of an object in space, whether it's with a point-and-shoot camera, DSLR, the Hubble Space Telescope or even a Smartphone camera.
Photographs of the night sky can be taken with the aid of a tripod. Keeping exposure times low enough, so that motion due to the Earth's rotation is not significant, can lead to great photographs of the night sky.
Also read: How To Enable Whatsapp Dark Mode in Android
Is Astrophotography with Smartphone Camera Possible? 
Astrophotography requires a camera to work in manual mode but many advanced high-end smartphones also don't possess manual control features. Well don't get upset google has a solution for this, Astrophotography feature has recently been introduced for Google Camera.
Google camera is only available for pixel devices but not everyone can afford to have Pixel in their pocket. Thanks to the developers out there who are doing a magnificent job by creating a Modded version of Google Camera application(usually GCam). So basically you can do Astrophotography with a smartphone camera.
Download & Install Google Camera
Requirements: 
Camera 2 API support
Android 9 or above
Should have a rear camera (Astrophotography doesn't work in front camera)
Install normally and allow all permissions
Also read: Google Camera 7.3 is Available to Install for all Android Devices
Astrophotography with the smartphone camera setup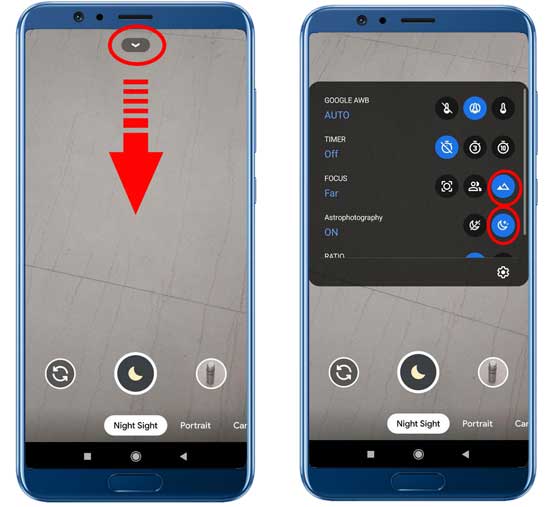 For astrophotography mode, you need to apply some basic google camera settings
1) Go to Night Sight tab and click on the down arrow or swipe down to bring the setting option
2) Select the Focus to Far
3) Astrophotography mode to ON
Now that you have done all the settings essential for Astrophotography with the smartphone camera, but it is impossible without the subject being stable.
To make a subject or camera stable you need a tripod stand or similar thing which can make the camera stable for 3 min at least. The processing can take a long time depending on your device processor/processing capability.
Buy Tripod here: Amazon
This Astrophotography feature works only in the rear camera so don't try with the front-facing camera anyway. Now move the camera focus to the sky and click half-moon icon in night sight.
Try to be away from the camera or tripod till the processing is done because it can take a long time and any disturbance might reduce the image quality. I have taken an image with POCO F1 and the total shoot & processing took 3 min to complete.
Join Our Telegram Channel