Well in the current where everyone is concerned or at least talking about privacy, VPN is the need of time. VPN implies a "virtual private network" that basically encrypts the data transfer. As VPNs are getting applied by the masses, they are increasingly becoming more powerful.
Well, the VPN desktop application is used by masses but it becomes quite handy if it can be accessed from the browser. Browser extension has its own downside but you have to prioritize the purpose of the VPN application. There are some VPN extensions that can control desktop apps but that is a completely different topic.
Free VPN Chrome Extensions
Well getting a VPN service is quite easy nowadays by free service is difficult. Because VPN service providers have also to pay for services they use. So if you are getting some VPN for free that means they will bombard you with malicious ads. If you don't want to get trapped in those malicious ads and still like to use a free VPN then you are at the right place. In this article, we will go through the best free VPN Chrome extensions to use in 2021.
Touch VPN is the best of my choice because it's completely ad-free and very easy to connect. This is 100% free, no credit card information needed, no trials offer. You get unlimited bandwidth with no session limit. So basically it is completely free to use.
The smart connect will search the best server available closest to you and connect to it. You also have the flexibility to choose manually some of the server locations but this is limited to very few locations. One of the most interesting parts is the built-in adblocker which actually pretty decent.




Here you have the flexibility to manually enable tracker blocking, Cookies blocking, Malware blocking, WebRTC blocking & Ads blocking. At the same, you can choose to bypass the local network.
Also read: How to Compress Video File in Smartphone & PC/Computer
Ultrasurf VPN
Ultrasurf is also one of the best VPN service present right now. With over millions of downloads, Ultrasurf is a completely free VPN service. There is no bandwidth limit so, you can use it as long as you can. Although this is free to use the functions are limited. There is no flexibility in selecting the servers. So you can experience many time low speed.
This a very renowned VPN service, won several awards. With over 650 million downloads, Hotspot Shield Free VPN Proxy has been featured on Fast Company, Forbes, CNET, CNN, and the New York Times.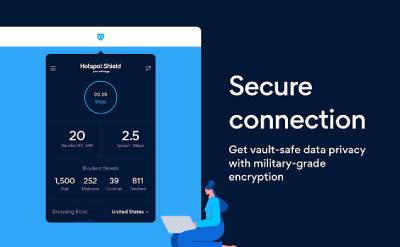 This VPN can be used freely with some restrictions which are normally good for any anonymous surfing. There is no bandwidth limitation with support for blocking dangerous websites. But if you are planning to use VPN for commercial purposes then the paid plan has a lot to offer.
Under the paid plan you get multiple device support up to five devices can be simultaneously used. Fastest & server closest to you will be accessible & complete private browsing with protection from dangerous websites.




VPN Free
VPN free is also a great VPN to try out. This VPN has everything that other VPN offers. You can anonymously surf the internet & mask your IP while browsing something sensitive.

Although being one of the best VPN, the free plan is pretty limited. You will get limited bandwidth with the free plan. The paid plan will bring along unlimited bandwidth with the server location of your choice. The IP address masking and privacy protection you get here is military-grade.