Those days are gone when only DSLR cameras were used for creating amazing shots. Now smartphone cameras are capable enough to bring life. With the addition of tripods, smartphones have transcended their capability to take extravagant shots.
Gorilla Tripod is the original flexible tripod, Super-versatile, and comes in compact sizes. This tripod is different from a normal tripod where each pod is flexible and can be affixed anywhere. So this can be used as a selfie stick, for vlogging and can be your solo partner.
So if you are looking for a budget Gorilla tripod for mobiles under 500 then let's scan through the below-detailed article.
List of Best Gorilla Tripod for Mobiles Under 500
Here I have arranged the Tripods based on my personal preference. So check out all tripods and decide which one is best suited for you.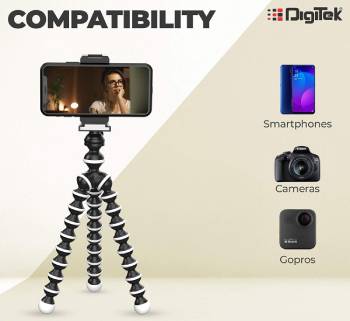 Digitek gorilla Tripod is on top of my list because of the quality & standard it offers. Digitek is a renowned name in the space of Tripods.
This tripod is compatible with both smartphone and lightweight DSLR cameras. Also, the most unique thing which you get in here is the Bluetooth remote-controlled photo and video shoot.
The Gorillapod mobile tripod is made of high-quality ABS. Making it a very heavy-duty product and giving it an exponentially longer life, as compared to another plastic-based camera tripod.




An Anodised finishing rotating sphere in tripods for mobile or gorilla tripod ensures that you get a great load-bearing capacity for your DSLR camera, mobile tripod, DSLR tripod, GoPro tripod. Its portable design ensures you carry these mini tripods for mobile effortlessly throughout the day. ABS makes the mini tripod exceptionally lightweight and durable too.
The tripod bottom is covered with a rubber grip which makes it stand still even on slippery floors. This tripod comes with a free mobile holder so, you don't have to rush to buy mobile holders separately.
You can also watch the full video review here: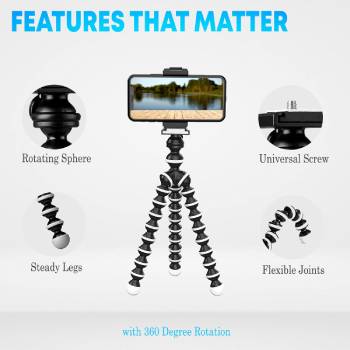 Tygot gorilla tripod comes under Amazon's choice which itself makes it suitable for you to give a try. This tripod is made of high-quality ABS material which ensures that even with very rough usage your mobile phone, camera, phone, DSLR, and tripod stand are safe. Like Digitek, this also comes with a free mobile holder.
The top rotating part comes with an anodized finish with an accurate angle lock. This ensures that your phone stands can take photos at angles that you desire and will stay in that angle as long as needed.
The tripod bottom is covered with a rubber grip which makes it stand still even on slippery floors. 360-degree rotation makes it suitable for taking shots in all directions very conveniently.
Also read: Top 5 Best Room Heaters To Buy This Winter In India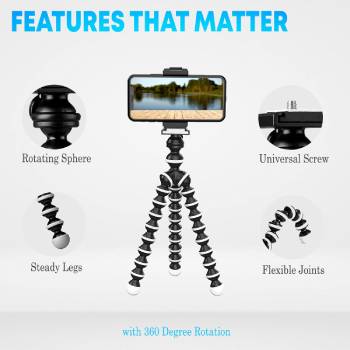 Adofys Camera Gorilla Tripod is again made of heavy-duty ABS material. The legs are made of bendable material which can easily bend into any shape and hand possibly anywhere. The legs are made of a special type of material that is flexible & sturdy and anti-crack design.
The tripod weighs only 295g making it suitable for use as an alternative to the selfie stick. But surprisingly it can hold smartphones & DSLRs very conveniently. You can actually rely on the strength of this tripod when you fix it somewhere.
A great pick for adventure photographers, the Marklif Gorilla Tripod can be used with DSLR cameras, mobile tripods, GoPro, and several other modern devices. The extra-long and flexible leg lets you entangle this tripod literally anywhere. Being part of Amazon's choice makes it more trustable.




This uses an accurate locking knob to simultaneously secure your phone and to switch between horizontal and vertical positioning – an option lacking in many clamps – though the do-it-all knob means it's possible to accidentally release your phone when you only want to rotate it.
CEUTA Gorilla Tripod a 13inch Tripod Height is Including 3inch Mobile Holder Height perfect for travel: compact and lightweight, this tripod is perfect to throw in your bag. Made of durable medical-grade abs plastic, and stainless steel, it's made to sustain the wear and tear of everyday life, or the rigor of adventure.
Max load capacity – 1.2 kgs. Max Height – 25 cm. Perfect for Beginning Level DSLR & Digital Cameras and Mobile Phones. Its sturdy base makes it suitable to capture long time-lapse or still images without any difficulty.
Wrapping Up
Finally, all the gorilla tripod we have mentioned here is under 500 INR. This doesn't mean that they are of cheap quality. All the products are tested and verified by thousands of users. You can go through each product and read the reviews also. We hope this article helped you in choosing the best gorilla tripod.