Telegram is a cloud-based messenger application that has tons of features compared to any other messenger application because it is an open-source project. Telegram is a universe in itself which you will only know if you start using extensively. Telegram is bundled with some of the very rare & extraordinary features which any other messenger application can ever have. One of them is "Bot," bots are those small packets of the program which can do some of the very specific tasks.
Also read: 10 Best Telegram Channel For Everyone to try in 2020
What is Telegram Bots?
Telegram is a broadcast service like Youtube where subscribers get regular updates in the form of broadcast. Broadcast messages get more interactive with the use of bots.
The bot can be made by any users if he has some basic knowledge of coding. Bots are driven by artificial intelligence, which can automate our tasks on Telegram. As you already know that channel & group features of the Telegram are already in trend, and the user base is growing exponentially. So to manage the huge, huge user base, you need bots to automate some of your tasks. Some Bots are developed to work in personal messages and some to work in groups & channels. So let's find out the best Telegram bots moving your messaging to the next level.
How to Join Telegram Bots
To join Telegram bots, you first have to search the bots in the search section. To explore any bot efficiently, you have to type bot name followed by underscore bot, for ex. controller_bot.
To start using bot press the start button or type /start in the chatbox and send. This is it, and the bot will start interacting with you. You will be provided with a message indicating what this bot can do.
Now that you have understood to enter into the bot universe, let's get into the list of best telegram bots.
List of Best Telegram Bots
Below is the list of Best Telegram Bots to try in 2020. The list is not arranged based on any ranking but on the author's personal choice.
StoreBot helps you discover the best bot on Telegram. You can rate, search, and discover the best suitable bot for your needs. This bot has a good collection of useful bots.

Find here: Store Bot

IFTTT Bot lets you create workflow linking two different apps together. It lets you interact with any apps you have connected to it, straight from the Telegram. You can actually get the feeds for Twitter, Youtube, Facebook right into your chatbox.
Find here: IFTTT Bot

Also read: JIO VoWifi Calling Service is Launched, Learn How to Activate it.
Subtitles bot, as the name suggests, fetches the subtitles for you. Type the movie name, and it will find the best subtitle matching your search query. This bot uses opensubtitles.com to download subtitles for you. If the subtitle is available in a different language, you will get the option to choose the language, and the further result will be displayed.
Find here: Subtitles Bot
Poll/Vote bot lets you create polls for any messages. Telegram channel has got native support for the poll in the latest update, but the reach is only limited to channels. The personal message still relies on the Poll bot to create polls.
The process to create is easy where you have to first enter the question, followed by options as many as you like. The poll result will show the real-time update of no of users polled.
Find here: Poll Bot
5) Like Bot
As the name suggests Like bot does the same. It helps you create content with the option of selecting different emojis.
Add the poll bot from the below link and type /start in the chatbox. You will get an automated message asking to send anything — a text, photo, video, even a sticker. Once you enter the message, LikeBot will ask you to send one or more emoticons. Select any emoji in the chatbox and send that it. You will receive a message preview along with the publish option. Once the publish option is selected, a popup message will appear, asking to choose the conversation to post.
You can add multiple emojis in the single post by separating the emojis by "/" (for, e.g., emoji1 / emoji 2 /emoji 3). And the maximum limit to add emojis is capped to six, which is more than enough.
Find here: Poll Bot
6.Giphy Bot
Giphy bot is an inline bot, which means you can contact bot right from the text input field, and it works in any cloud chat, the bot doesn't need to be a member. It will work in any chat, whether it is a personal chat or group chat or even a telegram channel. You can access this bot by the below link.
Now you can use this inline bot in any chatbox within telegram messenger. To search any gif, type @gif followed by space, and then search the query.
Find here: Poll Bot
Also read: How to Download Youtube & Instagram Videos on Telegram
7. Dr. Web Bot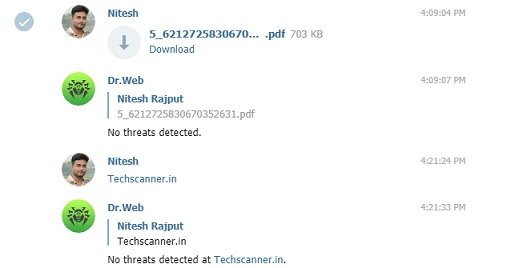 Dr. Web bot can be called an antivirus tool for Telegram messenger. It can ensure the safety of files and links transferred via Telegram by checking them on the fly. They claimed to have first and the only anti-virus bot ever.
Add bot via the below link and press start. Now forward any file (image, document, weblink, etc.) in this bot and Dr. Web will automatically scan and inform you if any possible threats are available. So form next time you have any doubt about any link or file, then must check out Dr. web.
Find here: Dr. Web Bot
8. URL Uploader Bot
URL Uploader bot helps you to quickly upload remote files to Telegram using URL. It Currently supports all direct file URLs, Instagram URLs, Mediafire, google drive URLs. All you have to do is to send or forward the download link and it will download the file in their server and upload it to the telegram.
This bot is not completely free; for free User, the filesize limit is 500.00MB, Daily Upload limit is 1.00GB, Torrents limit is 5.00GB, and 1 active/parallel downloads allowed. If you are planning to use it for commercial purposes, then you can opt for a paid plan.
Find here: URL Uploader Bot
9. Youtube Search Bot
Youtube search bot is another inline bot that works similar to Giphy bot, where you need not add this bot. Youtube bot can be searched directly from the Telegram chatbox by typing @vid followed by space and then search query.
There are some more inline bots such as @pic, @wiki, @imdb for searching pictures, Wikipedia, and IMDB, respectively.
Find here: Youtube Search Bot
10. Get Media Bot
Get Media Bot is an all in one package for downloading music, videos, music, image, lyrics, Instagram story, and much more. But this bot doesn't allow a link from all sites they have listed down the supported websites for downloading content.
Once you press the /start, a bunch of buttons will appear. Now click on any button to get the list of supported websites and links.
Find here: Get Media Bot
11. GetPublicLink Bot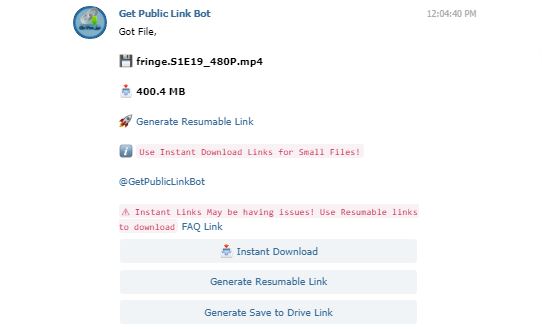 If you are an avid user of Telegram then you have noticed that the in-app downloading speed of any larger file is very slow. So if you got any file larger than 500MB then it's very difficult to get the file download fastly.
So you must have thought of downloading larger files through external download managers such as IDM or ADM. Well, this app does this task very efficiently by creating a public link that can be downloaded by any external download manager. Even this bot has gone further by directly saving the file to google drive.
Note: The external link expires after 24hr but if the file is saved in google drive then it can be download as long as not deleted.
Find here: Get Public Link Bot



12. Controller Bot
If you ever imagined how the posts with hyperlink buttons are created then here is the solution for you. The controller bot is a whole new dimension that adds interactive content in your post and proves to be very much useful if you are making content for any Telegram Channel.
The steps to apply this bot setting to your channel are not straightforward. It takes time to set up for the first time and after that, it automates tasks for you. This is a very powerful bot that needs administrator permission and the best part is that it comes free of cost and currently serving more than 3lakhs Telegram Channel.
The steps to apply the setting is beautifully explained in the below video
Find here: Controller Bot
Also read: List of Top 8 Best Telegram Bots to Use in 2021- Makes your Life Easy
13. WatchDog Bot

Watch Dog Bot is the bot to monitor your website. It accurately intimates when the website was down,  for how much time it was down and when it again went live. These feeds are very critical if you run a successful website. So this is the must-have bot for every website owner.
To use this bot first add this bot from the below link and type /add in the chatbox and enter your website address. You can also access the advanced menu to get the most out of this bot.
Find here: Watch Bot
14. Many Bot
Many bots let you create your own bots. Send messages, create custom commands and menus. You can find a tutorial in the bot itself to learn how to use many bots for different purposes. This is also a very powerful bot like controller bot which requires administrative privileges. You can use this bot to create bot and menus to automate tasks in the Telegram channel and Groups.
Find here: Many Bot



Affilio bot is a recent addition to this post which is a boon for those who run Telegram deals channel where they post amazon deals with an affiliate link. You can customize everything related to this post such as the time interval between posts, min. discount, minimum price, tags, etc. You can add your affiliate id and even add multiple channels with multiple affiliate id which is awesome.
For now, it is free to use and they mention that this will email free forever. But there is a catch, the free version pushes their partner affiliate links to keep this free service running which is fair enough.
If you have a good subscriber base and have decent affiliate earnings then I would recommend you opt for the paid service which gives you full control and many more customizations.
Find here: Affilio Bot
As the name suggests, this bot counts the subscriber from social media websites. You can add your youtube, Instagram & Twitter accounts to get the details of the no of subscribers. This saves you a lot of time because you need not stalk these websites every time for the current status of subscribers.
A good thing is that this bot doesn't require any permission so basically, you can get the subscriber's details of anyone.
Find here: Subscriber Counter Bot
This is an official telegram bot that creates stickers for you. There is a simple rule for sticker creation i.e. the image file should be in PNG format with a transparent layer and must fit into a 512×512 square (one of the sides must be 512px and the other 512px or less).
Once the sticker image file is accepted you will be asked to assign an emoji to call this sticker. So whenever you type this emoji a sticker suggestion will popup.
Find here: Sticker Bot
You can use this bot in any conversation, any time, to translate any text you want.
Write @BabelgramBot and press <space>. Then, write the language code you want
to translate from, press <space> again, and repeat the process for the language you want
to translate to. Finally, write the text.
? Example: @babelgrambot en es Hello there! will translate the "Hello there" message from English to Spanish
Find here: Babel Gram Bot
Also read: Best Way to Convert any Image to the Editable Text
This Telegram bot is very much useful for those who are having trouble downloading from some specific link or for those whose download link is blocked.
This bot basically saves everything into your google drive by just sending the download link to this bot. To make this bot function you have to authorize this bot to allow saving into your drive after that everything will be like butter.



Find here: Google Drive X
This is an inline telegram bot that searches the telegram channel based on your search keyword. They also have arranged telegram channels based on different categories.
The most interesting part is that you can also request to add your channel using this bot.
Find here: Searchee Bot
Also read: windows 10 keyboard shortcut you Must Use in 2020
GalleryDL is a telegram bot to download photos from websites like Instagram, Twitter, Pinterest. Just share the image link to this bot and it will extract the specific image for you.
This bot will fetch you the best quality image possible on their servers.
Find here: GalleryDL Bot
Mr Dℰℕ⩔ℰℛ. bot is a modular group management bot with a few fun extras!
This is a great group management bot that can do a list of automated tasks such as banning a member, blocking offensive words, Welcoming new members, Domain Blacklist, and many more tasks.
To make this bot work you have to make this bot an admin of the group and the rest things are automatically taken care of.
Find here: Mr. Denver Bot
Final Words
These AI-based Telegram bots are continuously developed by developers like us, so I have kept this article a live document where new bots will be added continuously based on your feedback. So do let me know in the comment section if you know any bot which is better enough to find its place in this article. If you like my content, please do consider visiting my youtube channel. and do With this note, have a good day!!