Imagine you are working for a company, or you are a student studying who has an image of some documents or handwritten notes which you want to convert into editable text. In that case, an average person will keep a document or note on the side and start typing, but this is a very old school. What if, tell you that you don't have to type anything, and your image/notes text will be converted into editable text.
With the development of artificial intelligence and augmented reality, you no longer have to type it manually. Yes! You heard it right; there is no typing involved; only use of relevant software will do your task in just a matter of seconds. And the best part is that most of the softwares are free of cost.
List of Applications to Convert Image to Text
1) Google Keep
2) Google Drive
4) Photo Scan

Play Video
This app is first on my list because most of you have used or might be using this app currently for taking notes. Google keep is a very useful application which is used for keeping notes and reminders. In addition to this, it automatically synchronizes everything with the associated email id. These things you all know, what you all don't know is that Google Keep is a very advanced OCR tool, and it is completely free. Its OCR tool is so advanced that it can even convert handwritten Hindi text into editable text.
Google is not very good at marketing their apps; that is why we come into the picture. There are some steps you need to follow to use its OCR feature.
Google Keep Chrome extension
Google keep Playstore
Steps to be followed:-
You can go to the Google keep by clicking here or by adding as chrome extension & android app by the above link.
Login by your Gmail account
Now add a new note and upload the text image
Now click the image to open the image and then click the 3 dot icon in the bottom right corner.
Then select the "Grab image text" to convert all image text to the editable text.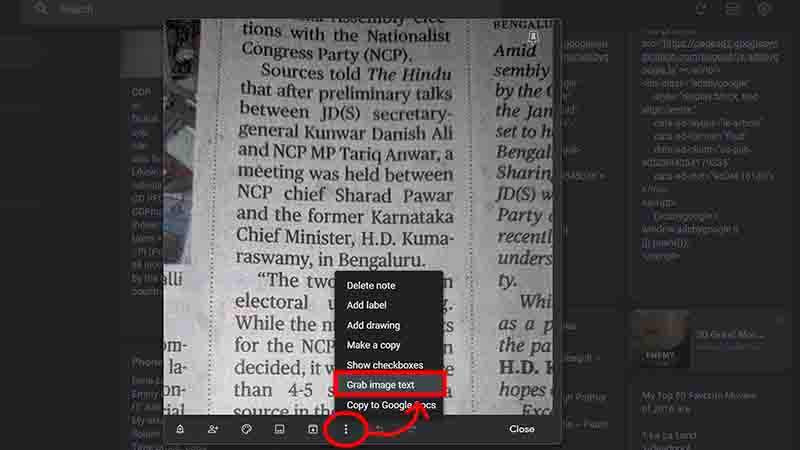 In a matter of seconds, all image text converts to editable text.
Scroll up the image to see the editable text.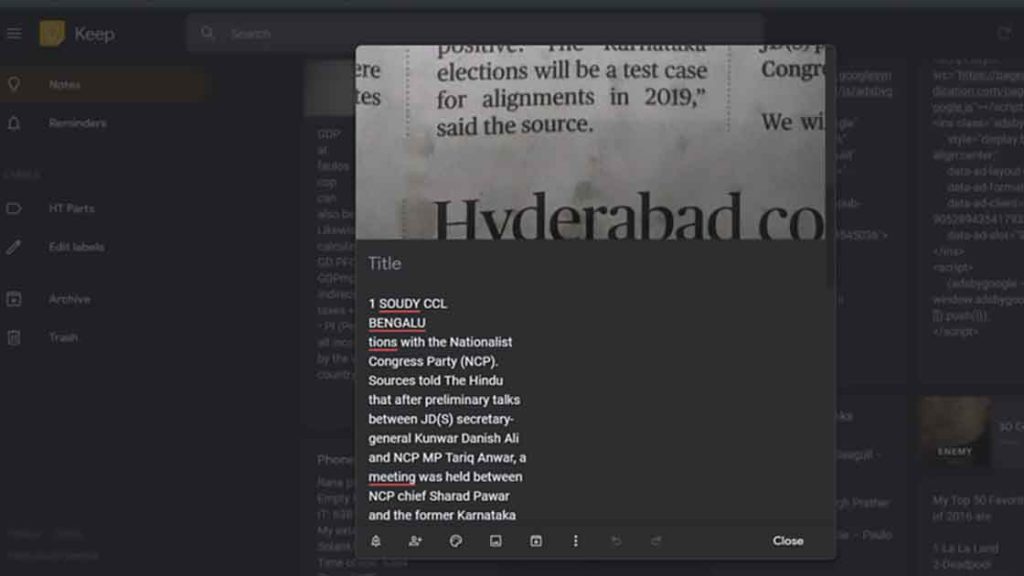 The above image was from the newspaper, and you can see how much accurate was the text conversion. Then, i tried to convert the handwritten image (both in English & Hindi). To my surprise, it actually converted all handwritten text. It's a Google product, so it supports multiple languages.
Note:
Make sure image is of good quality otherwise you will get error message "couldn't fetch text".This method works in browser as well as in android.
Handwritten note in english
Handwritten note in Hindi
Everyone uses google drive for photo, video & documents storage. But very few of us actually know that there is inbuilt Image to text converter. Here you are going to take advantage of google docs for converting Image into editable text.
Steps to be followed:-
Open Google Drive
Upload your files to the Google drive
Now select the image file and right click > Open with > Google Docs
Image loading in google docs will take some time. Once its loaded it will automatically recognize the text and convert into editable text.
The same method will work for handwritten text also provided text must be clear for software to recognize text.
These are google products, so it supports multiple languages.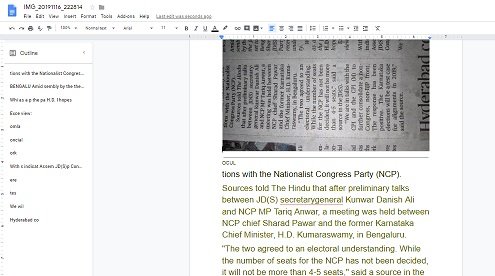 OneNote comes bundled with MS Office, that means most of the time it stays there in our system consuming extra space so, why not take advantage of this application. Microsoft OneNote claims to have one of the best OCR functionality which alleged to work on the scanned document and handwritten notes. I have tried handwritten notes, but it didn't work for me, maybe it will work for you.
All you have to do is to drag the image file to the OneNote. Once the image file is attached, select the file and right-click to open the options. Go to "Copy Text from Picture", It will convert all the text to the clipboard which you can paste into a Word file, text reader, notepad or anywhere.
Download: Microsoft Onenote
Photo Scan is widows 10 application which can easily convert any scanned image to the editable text. The app is free to use, ad-supported and involves in-app purchase. This app is not quite good with handwritten text but pretty good with the scanned document.
Download the PhotoScan from the above link, open the app and drag the image to the app. Otherwise, you can use the camera/webcam to take an image. The app will automatically be converted into editable text and displayed alongside. This app also has inbuilt QR code reader where you have to just point the camera to the QR code.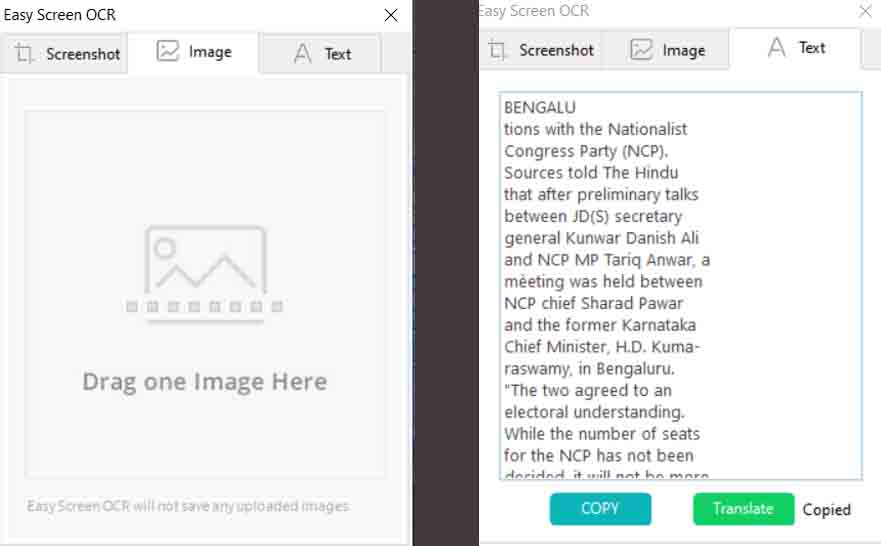 Easy Screen OCR is an advanced Image to Text converter but its not free. First few times it will be free then you have to purchase it to use more. It has very clean and easy to navigate interface. You can take either take screenshots or drag & drop an image to start converting. It processes everything online, so you must be connected with the internet.
The converted text was fast and very accurate, but on the contrary, it couldn't very well recognize handwritten text. Well but it's very accurate for scanned documents, and you can try this & purchase if you like.
To start conversion, you have to open an app from the minimized tray and jump to image OCR to bring the conversion page.
Download: Easy Screen OCR
As the name suggests, Free OCR Software is completely free of cost, which is supported by ads; in-app, purchase can remove ads. This app runs in all windows supported platform. Like other OCR software, this app is also good at recognizing text from the scanned document but very bad at recognizing handwritten texts. It also supports multiple language.
Down below in the left side there is an option open image, select image and click Start OCR to convert into text. The text will appear on the right panel which you can save as text or word document.
Download: Free OCR Software
Final word
Though the free software are good at recognizing printed document text but always fails to recognize the handwritten text. If you ask my personal preference then i will go with Google Keep as it works both on browser and android also handwritten text recognition was best by far.