Recycle bin is a special directory where all deleted files are stored. It is a kind of storage which from where deleted files can be safely recovered. By default, when you delete a folder or file, Windows just sends your folder/file into Recycle Bin in the event you need to recover it.



This is a safe way to delete any files in case you want the files back in the future, but it consumes a lot of your precious space on HHD/SSD. In this post, you will get to know two methods to bypass the recycle bin in Windows 7/8/10.
Also read: 4 Best Ways to Loop Any Youtube Video in PC/Desktop
Method 1: Using Keyboard Shortcuts to Bypass Recycle Bin
This method is very straight forward but requires the specific keyboard key combinations every time.
Select the files/folders and press the Shift + Delete keyboard combination delete permanently. Your selected folders/files will be permanently deleted without going to Recycle Bin.
Method 2: Bypass Recycle Bin through Recycle Bin Properties dialog
This method is the permanent solution for deleting files permanently. After applying this method none of your files goes to the recycle bin folder even if you want to.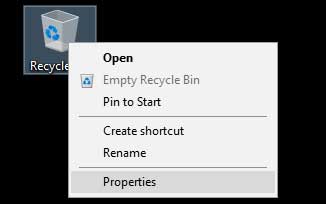 Step 1: Select the recycle bin shortcut on the desktop and then right-click.
Step 2: Go to the properties select the drive then, deselect custom size and select the below option (Don't move files to the Recycle Bin, Remove files immediately when deleted).


Step 3: Repeat the above step for other drives for which you want to bypass Recycle Bin.
Note: if you just go through the above step for the drive C:\ only, the files deleted from D:\ will still be moved to Recycle Bin.
Step 4: Ideally the setting is complete but I would recommend you select the next option also "Display delete confirmation dialogue". This display confirmation dialogue will make sure that files are bypassing the recycle bin.
Wrapping Up
That's it. Now, whenever you delete a file from any drive in Windows 7/8/10. The file will not go to Recycle Bin but immediately deleted permanently. There are the two easiest methods to do that. well, if you know any other methods to bypass the recycle bin then comment below.