Whenever you upgrade the storage device to a new SSD then reinstalling everything becomes a very tedious task. On top of that if you have a long list of software installed then that will cost you a lot of time and energy. And believe me, you can clone everything like original including your OS or windows without any difficulty. So if you are excited like me then here is how you can clone Windows to SSD for free.
Clone Windows to SSD for Free
If you have a newly installed SSD then you may not see this drive in My Computer. Well don't panic, everything is all right just the drive is hidden by default. To make it visible on the My computer just go to the start menu and search for disk partition. Right-click on the disk and select the New Volume and follow the on-screen steps. There you have to select any drive letter and then your drive will be visible.
Now follow the below steps to clone windows & everything on the C drive
Step 1: Download the Mini Partition Wizard and install it.
Step 2: Open the Mini Partition Wizard and go to Migrate OS to SSD/Hd Wizard and select A or B.
Also read: How to Delete Gmail account from Computer, Android & iOS devices
Select option A if you are intent to clone your complete C drive to SSD. Select option B to clone only OS to SSD.
Step 3: Now select the destination drive and click next to continue.
Step 4: Now on the next page tap on the finish button. And then click on the apply button at the bottom left corner to start the cloning process.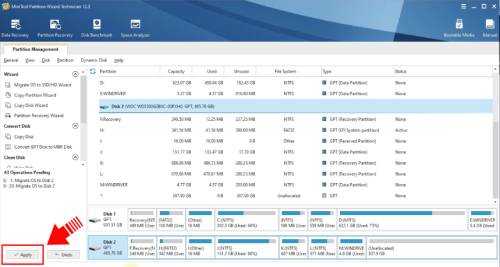 Now the process will start and might continue for longer hours. Te duration depends on the number of files saved on your device. Also if the source drive is HDD then it will really take a longer duration. So be patient and put the device on power to avoid any kind of interruption.




In this process, your device might restart and run in the command screen to continue the transfer of windows. Once the process is complete your system will start.
Now you need to set the boot priority to start the OS from your SSD. This you can easily set it from the bios menu.
The last words
Since this process is software-driven so you don't have to do anything manually. Everything is done by the Mini Partition tool without any difficulty. If you have any problem in clone windows to SSD then don't hesitate to comment below.