People generally make hype of how to create Telegram bot which is actually other way around. If you are a Telegram user then you might be already aware of bots and how crucial it is for Telegram messenger. For those who are new to Telegram, Bots are driven by artificial intelligence, which can automate some tasks on their own.
Bot creation is a stepwise process that has been simplified by Telegram. But still, some users face difficulty in creating a bot and adding custom description, bio & Logo. So in the below article, you will understand to create Telegram Bot and add a custom description, bio & Logo.
Read also: Best Telegram Bots Everyone Should Know in 2020
Create a Telegram Bot using Botfather
BotFather is the official bot of Telegram which will help to create Telegram Bot.
Step 1: Search for Botfatherbot and make sure that the official blue tick is there. This is an official telegram bot and there are many fake bots so must check for a blue tick before adding.



Step 2: Type command /newbot and select the bot name followed by bot username. Usernames of your choice are sometimes not available so you can try different variants of username.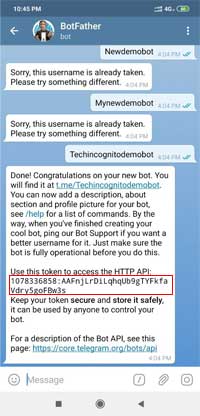 Step 3: If your username is accepted then you will receive a confirmation message along with API key. This API key is very important when you are going to add codes to our bot.
Step 4: Now technically bot is ready and you can do whatever you want. But without proper description and logo, the bot will look like a spam bot.
Also read: How to Create Telegram Channel in 2020
Step 5: To add description & logo to your bot you must first select the bot for editing. This can be done by entering the code /mybots. You will get the list of bots created by botfather with your user ID.
Step 6: Select from the list of bots and go to the "Edit Bot" button.
you will get multiple buttons to configure your bot such as Edit Name, Edit Description, Edit About, Edit Botpic & Edit Commands.
Step 7: So if you intend to change Bot name, set bot logo, or add about & descriptions, then you can do it from here. So this is how the process to create Telegram Bot finishes here.
Final Thought
Well, I assume that by this time you have created your own Telegram bot with an attractive description and logo. Now its time to add interactive buttons or commands to your bot without absolutely no knowledge of programming. You can also scroll through my other articles on Telegram which might interest you.