Disable automatic update of Whatsapp: Whatsapp has millions of active users all around the world. By default, WhatsApp has made its app set on auto-update mode even if you have switched off auto-update from the Play Store. So many of you guys might have noticed that even after your auto-update from playstore is switcher but your WhatsApp gets updated. So there is a small secret trick that you can apply to completely disable automatic update of WhatsApp which we are going to discuss in the below article.
Why there is a need to disable automatic update of WhatsApp?
Every month there will be some update from WhatsApp which sometime might be useful for you or might not be useful for you. So here are some of the reasons why people refrain from updates.
Automatic update consumes battery and can be a killer when you have a low battery signal
Every update is unnecessary increasing the size of app data which consumes a lot of space on your device
The update brings some new features and discards old features. So before going to the new feature then you still have time to update later. But after updating we cannot roll back conventionally.
Disable automatic update of Whatsapp
To completely disable the update you need to first disable auto-update from playstore for all apps followed by disabling auto-update from individual WhatsApp applications. This might seems confusing to you so here we have made it very easy for you in the step-by-step process.
Disable auto-update of apps from playstore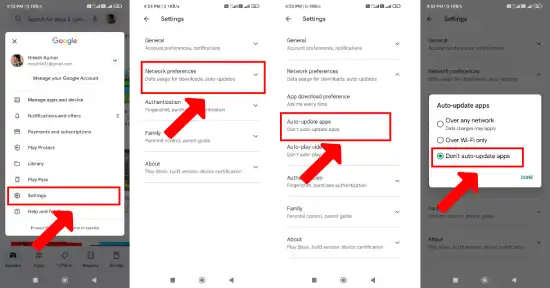 Step 1: Go to Playstore and then tap on the top right corner with the login icon
Step 2: Next tap on the "Settings"
Step 3: Tap on network preferences
Step 4: Go to "auto-update apps" and then select "don't auto-update apps"
Step 5: Tap on "DONE" to save the process
Now you have disabled auto-update on all apps but still, there is some app that has their own individual auto-update setting. WhatsApp is one of those apps so let's understand how we can remove or disable auto-update.
Disable auto-update from Whatsapp individually
Step 1: Go to Playstore and WhatsApp app 
Step 2: Tap the three dots on the top right corner
Step 3: then uncheck "enable auto update" and voila you are done
Final words: Disable automatic update of Whatsapp
I hope you have successfully disabled the automatic updates on WhatsApp. This is not a tough method rather it is tricky which you should know if you want to take full control of your apps update. This method you can apply and check in other applications as well so that you can save your data and battery in case of emergency according to your comfort