Downloading Youtube, Facebook & Instagram videos is not a difficult task these days. There are many applications available in the market which can easily do this task for us in just a matter of seconds. But for every job, we don't want a separate app. Instead, we would be very much happy if a single app can do all kinds of the task for Us.
Also read: 10 best Telegram channel lists
Download Videos on Telegram
Well, we have a super app called Telegram, which can literally do anything. Telegram is a universe in itself that can do tasks you have never imagined. So in this article, we will understand to Download Youtube & Instagram Videos on Telegram.



Instagram
Step 1: Go to the Instagram video and click on the 3 dots placed on the top right corner of the video.
Step 2: Now copy the link or share the link on the Telegram to saved messages.
Step 3: If you are manually pasting the link the go to the telegram app and click on the hamburger menu > go to saved messages > Paste the link and wait for link preview.
Step 4: After link preview is generated, hit send. Video preview, along with video size, will appear.
Step 5: Don't play the video; instead, click on the download icon beside video size to download the video.
Step 6: Once the full video is downloaded, click on the 3 dot icon on the top right corner of the video preview.
Step 7: From the list of options, hit save to gallery and save to downloads to save the video to the gallery and downloads, respectively eventually.
Also read: Share Youtube Video at a Specific Time in App & Browser
Youtube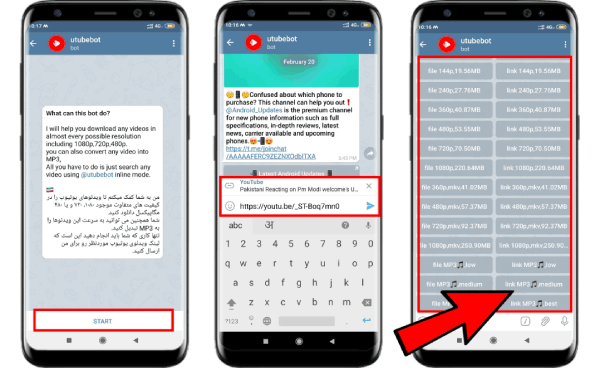 In this trick, Telegram bot is doing youtube video download. There is a dedicated bot for downloading youtube videos in all possible quality and video formats. To our surprise, this bot will also give the direct link to download the mp3 version of the video in all possible quality.



Step 1: Go to the  utubebot_bot and hot start.
Step 2: Copy the youtube video URL and paste it into the chatbox.
Step 3: Wait for the link to create a preview and hit enter to sen the video.
Step 4: The bot will start fetching details immediately and will send the direct link with different video and audio formats.
Step 5: Click on those links, and the bot will immediately send the direct download link.
Wrapping up 
There might be other methods to download Youtube & Instagram videos on Telegram. But this is by far the easiest and most trusted source. Every day new bots are born and vanished, so it might happen that this utubebot_bot will stop working after some time. So, please comment if you were unable to download the video, this would help us update the article accordingly.