What is Picture in Picture Mode?
Picture-in-Picture (PiP) allows you to watch videos in a floating window (always on top of other windows) so you can keep an eye on what you're watching while interacting with other sites, or applications.




How to Enable Picture in Picture Mode in Chrome Desktop
There are two ways to enable Picture-in-Picture (PiP) in Chrome desktop.
Using Built-in PiP setting
Using Chrome Extension
1. By Using Built-in Settings
The feature works perfectly on those video streaming platform where right-click is not disabled. The most popular streaming service Youtube works perfectly but to enable this Picture in Picture(PiP) option you have to be a little tricky.
Also read: 4 Best Ways to Loop Any Youtube Video in PC/Desktop
Just open Youtube, play any video, and skip if any ads appear. Now double right-click over the video, this is the trick which you have to follow. The first right-click will bring the youtube related setting and the second right-click at the same spot will bring chrome settings.
There you have to select the Picture in Picture. Immediately after selecting a picture in picture(PiP) the video will play in another floating window. This video will run as long as the website tab remains open. So you have to keep chrome running to use this feature.
If you are not getting this option by default then you need to tweak something in the chrome browser. Just follow the below method to enable PiP in chrome.
Enable Picture-in-Picture (PiP) from Chrome Flags
An open new tab in chrome, enter URL chrome://flags, and hit enter. This will direct you to the chrome experiments where Google Chrome hosts all experimental settings. Now search Picture in Picture and enable Global Media Controls Picture in Picture. Now relaunch your chrome browser and you are all set to go.
Even after applying both methods if Picture in Picture(PiP) mode doesn't work then jump to the second method discussed below.




2. By Using Chrome Extension
The above method didn't work? don't worry there is a better alternative which is why we all love chrome extensions. The extension is designed in such a way that it adds specially customized functionality to chrome browsers. This chrome extension will let you run any video in picture in picture mode. It perfectly works for any kind of video streaming platform which works on Chrome.
Note: This chrome extension is an official Google extension and is an open-source project. So you can peak into the source codes anytime. 
Step 1: Open Chrome and add it to the chrome.
Step 2: Now open any video streaming site and play any video. As soon as the video is played, you can see a small playback control button on the top right corner just beside your chrome profile.
Step 3: Now click on the playback control button and select the PiP icon. Voila!! now your video is running in another floating window.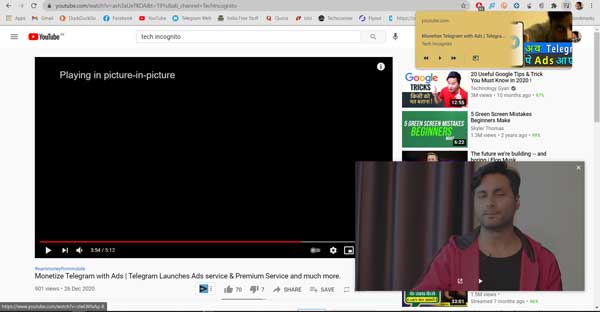 Once activated, the area where the video would typically plays goes black and displays "Playing in picture-in-picture mode." A small video player now floats on top of the window.
Also read: 3 methods to play Youtube video when the screen is off
Note: If you can't get this PiP option then you need to enable or disable the Chrome flags setting as discussed above.
To resize the player, click-and-drag the icon in the top-left corner. You can resize it to roughly a quarter of your screen. And you can drag this window to anywhere within the screen.
If you want to close then simply cross the video and you will be returned back to the video where it was originally playing.
Final Words
Well, both of the methods are officially offered by google so they will look & act similar once enabled. It's worth noting that PiP only works with one video at a time. If a video is already playing and you enable PiP on a second one, that video will replace the one currently playing. So from next if you want to surf while watching the video then you should definitely try this trick.