Video Conferencing is a lot easier than it used to be in the past. Back then there were very few apps that could deliver services free of cost. With the advent of VoIP, one to one video calling has become a cup of tea.
Most of the time video conferencing feature is utilized by corporate meetings and hanging out with long distant friend or relatives. The recent surge in video conference demand has been witnessed due to the unfortunate outbreak of deadly virus COVID 19. So to maintain social distancing everyone is rushing for video conferencing apps.



Well, most of the apps are paid ones but there are some unique apps that provide decent features for free. You can always opt for the paid service but it's not worth it if you are aiming for non-commercial purposes.
Also read:3 methods to play youtube video when the screen is off
List of Best free video conferencing software
Price: Free / Starting at $59 per month
Free Service Includes:
1GB cloud storage
Up to 100 participants
Screen sharing
Cisco Webex Video conferencing is an industry-standard and serves meeting over 6 billion/month. You get an option to talk to 100 participants at a time with screen share option and private chat rooms.
Also read: 5 Best Free Ebook Readers for Windows
You can create a personal URL to conduct a meeting with the choice of having a desktop/mobile app or directly from a web browser. The free version allows recording the meeting up to 1Gb cloud storage in the MP4 format.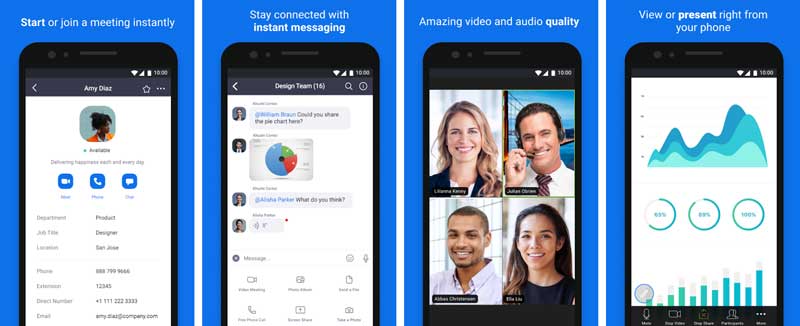 Free Service Includes:
Up to 100 participants
256-bit TLS encryption
The 40-minute limit for larger meetings
Zoom Video Conference has witnessed a drastic surge in userbase all over the world. This is mainly because of the video smoothness and user-friendly interface. It supports up to 100 participants but with a cap of 40 min only although up to 3 participants, there is no time limit.
Available on all popular platforms Windows, iOS, Android, Linux & MAC, and the best part is that you don't have to signup for joining a meeting; you only need invite links or security code.
The free version allows you to share the screen of an android/desktop device and it can also be used as a chat client. 256-bit TLS encryption ensures that the meetings you hold, and the files you share within them, are secure.
Also read: How to Use Google Keyword Planner for Free in 2020
Free Service Includes:
Cross-platform support
Can be used in the web browser
Live subtitles
50-participant limit
Also read: How to Get Google Photos Unlimited Storage [updated 2019]
There was a time when skype was only video conferencing service available. Later it was acquired by Microsoft and further many deliberate changes are done. It is still one of the most powerful video conference services. The skype cross-platform app also supports group video calling for up to 50 people.
It is available for all platforms; be it a desktop/mobile app or in browser. It is very convenient for those who don't want to install an app; they can directly log in through the browser.



As you expected they do support screen sharing along with background blur feature. And I found a very unique feature which is the live subtitle of the conversations.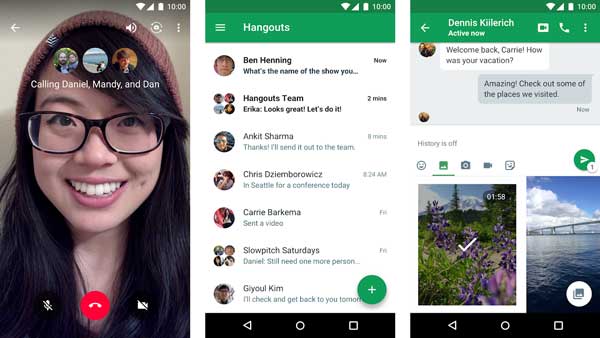 Free Service Includes:
For desktop and mobile
Can be used in the web browser
Video chat limited to 10 participants
Google hangout is divided into two variants i.e. meet and chat. Google meet comes with Gsuite and for the obvious reason, it's not free to use. Although google chat hangout is free to use with a limitation of 250 participants in chat and 10 participants in the video conference.
Hangouts can be used in your browser, and there are apps available for Chrome OS, iOS and Android. There are little fewer features than their competitors but Google is all about speed and reliability.
Also read: Astrophotography with Smartphone Camera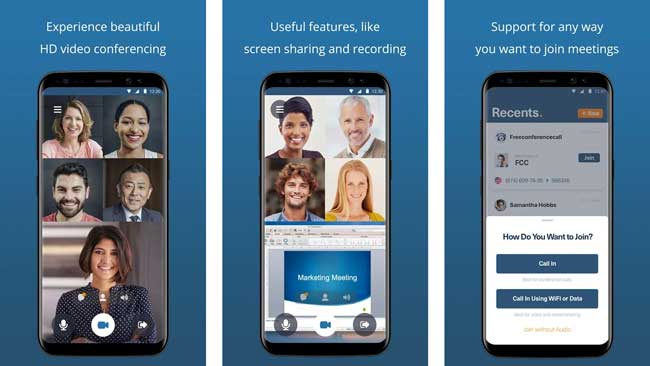 Free Service Includes:
No desktop software necessary
International dial-in available
Maximum five participants
The free conference is the video conferencing service which is suitable for small meetings as it supports only 5 participants. FreeConference keeps things beautifully simple for users by not requiring any software to be installed. Obviously the mobile app is available but you can hop into any browser to start video chat.
Along with video chat, text chat is also operational parallel and not to forget it also supports screen sharing as well as file sharing. Configuring, managing and scheduling meetings is very simple with FreeConference – including from Outlook – and there are some nice touches such as being able to set up recurring meetings.