Both Android & PC has a plethora of Google Chrome browsers alternatives, Chrome still remains the undisputed leader. Well, Google's offering certainly deserves all the traction because people love this browser for its minimal UI, integration to Google's services, and a plethora of features that are constantly updated. Sure this browser also not devoid of cons but Chrome remains arguably the best browser out there. If you are an avid user of chrome then you must be aware of many Google Chrome Tricks but certainly not all of it. That's why we are listing top cool Google Chrome tricks & Tweaks that aren't very well known in 2020.
Top Google Chrome Tricks & Tweaks on Android
 1 

Move Search Bar to Bottom
As we observe the trend of smartphone devices, the screen size of these devices has comparatively increased. The larger screen has plenty of space to accommodate additional buttons. Keeping this in mind Google is also experimenting to add an additional button at the bottom. Like always all the experimental features can be found in chrome://flags. The main address bar and navigation controls will be moved to the bottom as part of "Chrome Duet."
Also read:Google Playstore Dark mode in now Available to Everyone
This simply adds a dedicated search button that will open the address bar, putting a hotkey in an easier-to-reach location right above your on-screen navigation buttons — therefore making it easier to use one-handed.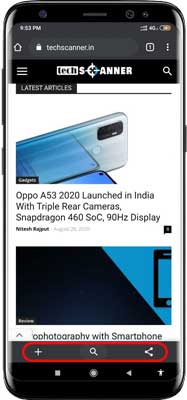 You can enable this by copy and pasting chrome://flags/#enable-chrome-duet into your address bar and setting the drop-down menu to "Enabled." Like other flags feature, you can disable by choosing the dropdown menu and disabling.
 2 

 Enable dark mode
After an android 10 update Chrome on Android will automatically change the accent color of your Chrome browser to match your current system theme. Despite the option to set a dark theme within Chrome settings, this isn't a true dark theme, as pages will still follow their own site CSS.
To manually change the chrome accent color go to setting menu > Themes > Dark. Alternatively, you can also select system settings so that it matches with system setting.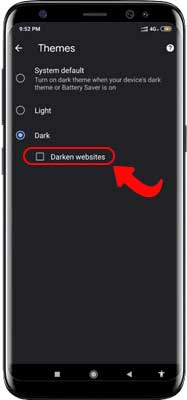 If the Themes option is not enabled by default due to the system not updated to android 10 or any other reason, then there is an alternative solution. Below the dark option, there is another checkbox to Darken Website, this is an experimental feature. When you tick this option all websites will be forcefully converted to the dark themes. You can enable this option also through an alternative solution.
 3

 Increase browsing speed
Normally the TCP protocol is used when you are browsing the internet as it is considered to be a very reliable Internet protocol. However, UDP is considered to be a faster Internet protocol,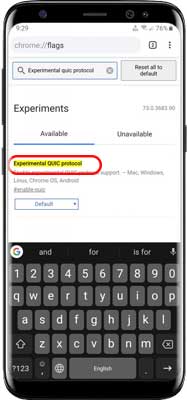 and using it instead of the TCP in your Chrome browser while browsing the internet might significantly increase your browsing speed.
To do this, just go to the Chrome flags page and then search for the 'Experimental QUIC protocol' flag and enable it. QUIC is the Quick UDP Internet Connection protocol and enabling it will significantly increase the browsing speed on your Chrome browser once you relaunch the browser.
Also read: Remove Password From PDF File: the Most Easiest method
 4

 Switch Tab through Gestures
Often we open multiple browsers in chrome and sometimes our task requires frequent switching between tabs. As a normal user, you switching tab by clicking the tab button next to the address bar. well, it can be a time-consuming process if you frequently between alternate tabs.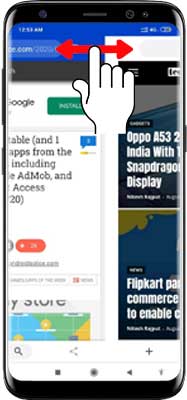 So instead of using an old school method, you can switch tab by sliding a finger on the address bar. Yes, you heard it right, sliding the finger on the address bar left or right will help you switch between previous and next tabs. This action will let you seamlessly navigate all your tabs.




 5

  Force Zoom on any Website
There are some websites whose fonts are really smaller to concentrate or there might be some minute details which you want to zoom and see. Some websites allow zoom in/out but some websites restrict zoom in/out. So technically you can't zoom in/out on some websites. Well, this might be irritating sometime when you are missing out on minute details.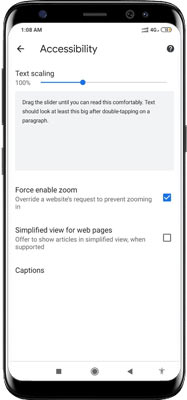 But thanks to Google chrome tricks, you can enable the force zoom feature on all websites. To enable force Zoom, go to the Setting > Accessibility > tap on checkbox Force enable zoom.
 6

 Interact with emails, phone numbers, and addresses you see online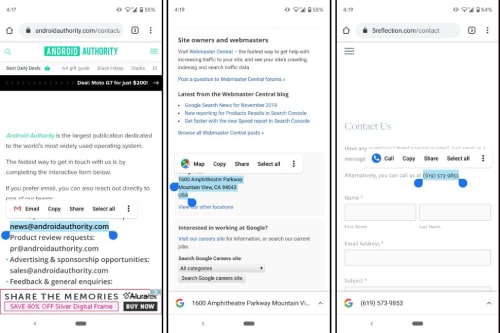 While browsing it becomes so annoying to copy and paste emails, phone numbers, and addresses to use them in other apps. Safari for iOS turns them into links for reaching out to people or navigating. While Chrome for Android still doesn't have this nifty feature, there is something similar that beats copying and pasting.
Whenever you encounter a number, address, or email just press and hole. This will bring a floating option. The first one will give you the option to use this information with Gmail, the Phone app, or Google Maps. This becomes super handy for Android users.
 7

 Switch your Default Search Engine
There is a myth that we can't change the search engine other than Google. As we all know Google is by far the best and most innovative search engine. But for any other reason, if you want to change the search engine, there is a possibility.




Open Chrome the tap on the 3-dot menu button on the top-right corner > Select Settings > Hit Search engine > Select search engine of your choice.
 8

 Enable Tab Groups
This Google chrome trick is very convenient for those who browse multiple websites. This essentially allows you to make tab folders and keep all your browsing neatly categorized. So in return, your messy tabs will be easily accessible with the help of tab groups.
To get this feature first open Chrome then type Chrome://flags into the address bar and press enter. Search for "Tab Groups", when the option shows up, tap on the drop-down menu, and select Enabled. Tap on Relaunch to see the effect.