Google Pay(Tez), previously known as TEZ, is a digital wallet platform and online payment system developed by Google to power in-app and tap-to-pay purchases on mobile devices, enabling users to make payments with Android phones, tablets or watches.
February 2018 marked the beginning of a single platform for all payment methods when Google announced combining all of its different payment methods into one unified brand, called Google Pay. In India, it uses UPI for all kinds of transactions. Unified Payments Interface (UPI) is an instant real-time payment system developed by the National Payments Corporation of India facilitating inter-bank transactions.
Also read: Use Google Photos for Auto Backup In Windows 10
Google Pay has made a vast customer base by proving lucrative offers like cashback, scratch cards & referral programs. Recently in the last Diwali, they introduced a very new concept of getting the reward by collecting five different stamps. It was a huge hit, though none of my circle members got any reward. So in continuation of this hit offer they again have introduced the Welcome 2020 offer on the same concept. So here in this article, you will understand how to collect Google Pay Welcome 2020 offers.
Enable Welcome 2020 Offer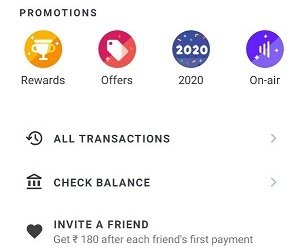 If you or your friends cannot see the stamp collection feature on your Google Pay Rewards channel, update your Google Pay app to the latest version from the above download link. After updating when you scroll down, you can find the new 2020 & On-air logo in the promotion section.
What is this Welcome 2020 offer?

Complete any layer to earn your first bonus reward. Once you complete any layer(the bottom layer is easiest to collect ), you will get an option to claim a bonus reward. As you can see in the above screenshot, I got the option to choose one bonus reward among four rewards.
This is just the bonus reward the actual welcome 2020 offer can be achieved only when you got the luck to collect all the seven stamps. You can earn anywhere between  202 – 2020 (as claimed by Google Pay team).
Are you Eligible to avail of this offer?
Before going further, you must go through some clear instructions given by Gpay:-
This offer is not available to residents of Tamil Nadu
You are not eligible for this offer if you have already earned over INR 9,000 during this current fiscal year (1 April to 31 March) across all Google Pay offers.
Any reward money you earn will be deposited to your UPI enabled savings account in Google Pay. If you do not link your UPI enabled savings account to your Google Pay account within 45 days of claiming the reward, the reward will be deemed to be forfeited.
Game Rules
Collect all 7 different stamps to complete the cake by 31 Dec 2019 and get an assured gift from Google Pay.
You also earn 1 bonus reward per layer for any cake layer you complete. The more layers you complete, the more rewards you unlock!
Collect these assured stamps the first time you perform the following during the game period from 23 Dec 2019 – 31 Dec
2019:
– pay a bill (Toffee stamp),
– recharge your mobile (DJ stamp), or
– invite a friend to Google Pay who makes their first payment using your referral code (Pizza stamp).
Other than the above, all other stamps will be variably distributed. You could collect any one of the 7 different stamps through the different collection methods.
There is a daily limit per collection method. See the "How to collect stamps" section.
What You Get
Get a scratch card with an assured gift from Google Pay worth Rs. 202 to 2020 when you complete the cake by collecting all 7 different stamps.
You also earn a bonus reward for any cake layer you complete. Choose your own bonus reward from a selection that includes vouchers, scratch cards, and lucky draw tickets worth up to 20 lakh.
You can claim and choose your rewards in the 2020 game by 31 Dec 2019.
Your claimed rewards will appear in the rewards channel.
You can earn a maximum of 1 bonus reward for each cake layer, and 1 scratch card for completing the cake.
How to Collect Stamps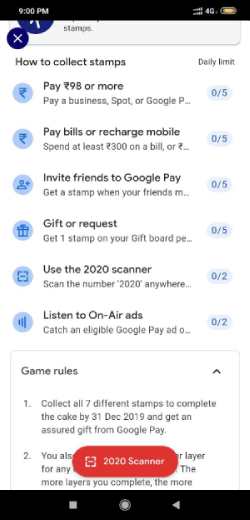 | METHOD | DAILY LIMIT |
| --- | --- |
| Pay 98 or more: Pay a business, Spot, or Google Pay user and get 1 stamp per unique payee | 5 |
| Pay bills or recharge mobile: Spend at least 300 on a bill, or Rs. 98 on a mobile recharge | 5 |
| Invite friends to Google Pay: Get a stamp when your friends make their first payment with your referral code. | 5 |
| Gift or request: Get 1 stamp on your Gift board per friend you gift once they accept | 5 |
| Use the 2020 scanner: Scan the number '2020' anywhere near you. | 2 |
| Listen on On-Air ads: Catch an eligible Google Pay ad on TV or google India's Youtube channel. | 2 |
Tips: Scan this image to get an assured stamp when you try 2020 Scanner.
Final Words
Well, it's not easy, neither it is tough to collect all the stamps. Sometimes it depends on your luck and sometimes on your efforts. Try to collect maximum stamps daily to achieve the target. I have tried to consolidate almost all information related to this welcome 2020 offer. Did you get all the information? Comment how many stamps did you get? If you have extra stamps do share with others.