Google has some very unique android apps specially reserved for its pixel users. These apps possess some very extraordinary features which every android user wants hands-on. Google Phone app is one of those apps which is only available for pixel devices. It isn't usually possible to install the application on other devices without using either a modified application or a Magisk Module, but today we found out that the latest version of the app can be installed on certain devices straight from the Google Play Store.
And Google is planning to make it available for all android devices with android 7 or more. It has not been disclosed that when the stable version is coming. Meanwhile, the beta version is now available for almost all of the android smartphones.
Also read: How to Get Google Photos Unlimited Storage [updated 2020]
Installing Google Phone App (Beta)
If you try to search in the playstore, you may not find it there as your device is not compatible. But don't worry a simple google search "Google Phone" will lead you to the app or you can go by clicking the below link.
Even if you reach the app, a warning message will be shown " Your device isn't compatible with this version". This is a general warning message displayed to all apps which are currently not fully compatible with your devices. To remove this message, you have to join the beta program of this app.
Scroll down below the reviews and click Join the beta. It will take1-2 minutes to enroll you in the beta program. Once you are enrolled in the beta program, the install option will be visible. Install the Google Phone app like any other app and allow all necessary permissions.
Now set this app as the default calling app otherwise it won't work. The basic interface will look similar to the native calling app so it won't make you crazy.
Join Our Telegram Channel 
Also read: 8 Google Translate Tricks Can be a Life Saver in 2020
Now click on the 3 dots on the top right corner and quickly jump to the settings. In the setting menu, you will get a bunch of options to tweak app behavior. You can enable/disable all the key features from this setting menu.
Now coming to the setting which made you shift from native app to google phone app is discussed below.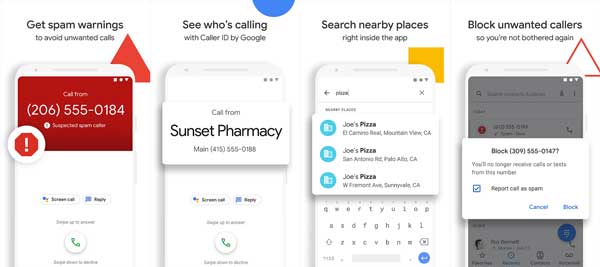 Display options: Here you can make your app run in the dark mode.
Blocked numbers: You can add any number to block all calls and SMS from that specific number. Even there is a setting to toggle block calls from an unidentified number.
Assisted dialling: Assisted dialling predicts and adds a country code when you call while traveling abroad. Currently, only Canada, India, Japan, Spain, UK & USA is on the list.
Caller ID and Spam: You will get two options See caller and spam ID and Filter spam calls. With the help of this setting, Google will attempt to show you useful information you make or receive a call. Such as name for a number not in your contacts or a warning when an incoming call is suspected to be spam.
Nearby Places: When you search from the phone app, this feature will use your location to find nearby places that match your query, even if they are not in your contacts.
Final words
Google Phone app is in the beta stage for non-pixel devices so there is some function that is still not available. Maybe in future updates, this will come to the beta users. So, it's always good to be enrolled in the beta program even if you are not using this app.