Who doesn't want to keep memories saved whether in the form of photos or videos? Photos will always have a special corner in our hearts. We often take photos whether to be a meetup, festival, candid moments, etc. and everything remains stored in our phone memory.
The number of photos taken by an average user per day varies on various aspects but the one thing I am pretty sure that quantity has been drastically increased compared to previous. with the increased demand for photos, the demand for the device storage has also increased.
Also read: 5 Best Free Ebook Readers For Windows
The phone comes with limited storage so you can either transfer your photos to some external drive or can save it on cloud storage. However, everyone can't afford to have an external drive which eventually shifts us to the latter option (i.e cloud storage). Cloud services like Google Drive, Onedrive, Dropbox, Mediafire, Jio cloud etc. provide limited free storage and for more storage extra money is charged.
Is Unlimited Storage Possible?
To save you from all these hassles Google Photos has come up with the most innovative solution by providing unlimited photo storage. Yeah, you heard it right! unlimited storage is a reality that every user can avail but with certain terms & conditions. You have to select the backup mode to High quality which provides unlimited storage of photos (compressed to 16MP, good quality prints up to 24 x 16 in) and videos (compressed to high definition).In the below article you will learn how to get Google photos unlimited storage.
Steps to Get Google Photos Unlimited Storage
1) Download Google Photos App from the above link.
2) Open the app and go to the hamburger menu ( ) on the top left side and go to the Setting ().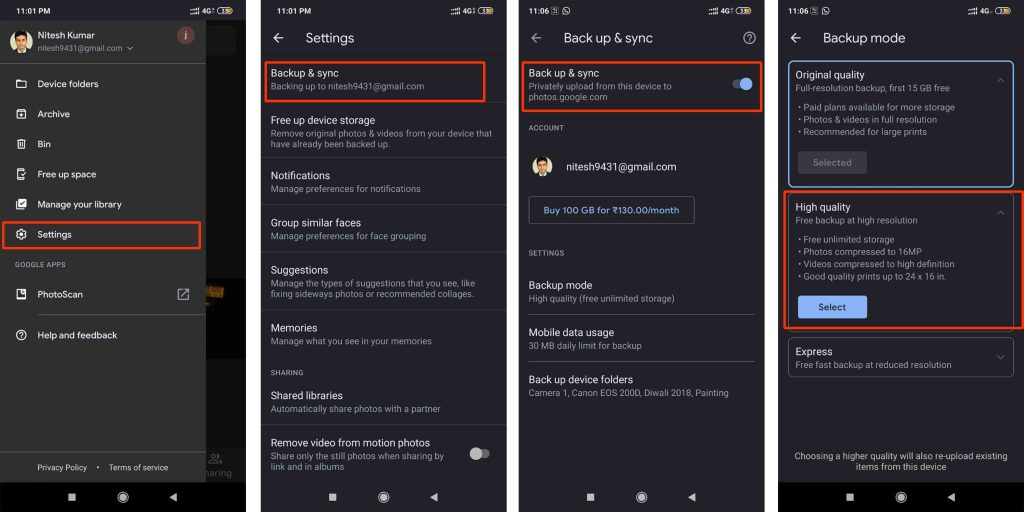 3) Now go to Backup & sync and toggle on (  ) backup & sync.
4) As you toggle on the backup & sync the new page will have the option of backup mode.
5) Go to Backup mode, this will lead to the three backup modes 
Original quality (only 15 GB free storage)
High Quality (Free unlimited storage with compression)
Express (free fast backup at reduced resolution)
6) By default backup mode selected is Original quality. Click on High quality and select this mode for unlimited storage.
Final Words
Both photos and movie storage is unlimited on google photos but it comes at cost of some compression. If we agree with google photos then the compression is such that the quality remains preserved up to a greater extent. Still, the choice is ours to choose however, this the best option we have got and I personally believe that this is amazing.