It is very easy to write Hindi using a Hinglish keyboard on a smartphone but the same is very difficult on a Windows PC. Hinglish keyboard was popularised by smartphones so it took a long time to come to PC. Very few people know that there are inbuilt settings that can start Hinglish keyboard directly into your Windows PC.
How to write Hindi in Windows 10
In this article, you are going to learn two methods to type Hindi into your windows PC. Both methods are equally capable and can be beneficial in different situations. So it is recommended to keep both the methods handy.
Method 1: Using windows PC settings
For this method to work you have to install the Hinglish keyboard and this is not very straightforward. so follow the below steps to enable Hinglish keyboard:-
Step 1: Go to Start and search language setting
Step 2: Add language and search "Hindi"
Step 3: Install the Hindi language and wait for some time so that every supporting component be downloaded
Step 4: After the Hindi language is installed left click on the Hindi language and go to the "Options" button.
Step 5: ow scroll down and go to keyboards and "Add a keyboard". Then select Hindi Phonetic from the lists of keyboards and let it install in patience.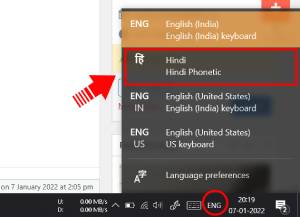 Now, whenever you want to type in Hindi then select this keyboard from the taskbar as shown in the above image. This is the best way where you can easily switch between different language keyboards.
Also read: How to enable dictation on windows 10
Method 2: Using Chrome Extension
Google has designed a Hinglish keyboard for android devices and at the same time, they have developed an input tool for the chrome web browser. This google input tool extension works seamlessly on all chromium-based browsers such as Google chrome, edge, brave browser, opera, etc.
Below are the steps to Install and get started with this extension on all chromium-based browsers.
Step 1: Install the google input tool extension into your browser
Step 2: Go to the extensions option and there you have to set the preferred language
Step 3: Google has a list of almost all popular languages so you will surely find your regional language too. Now select the language and move to the right by clicking the arrow menu.
Also read: How to Type Hindi in Chrome Browser
Step 4: Now left click on the extension and choose the preferred language from the list of languages. Now in your case, the preferred language is Hindi so select Hindi and then start typing.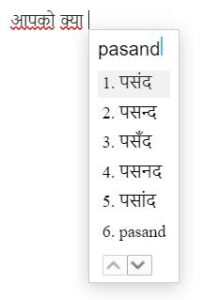 Step 5: Now if you type anything in Hinglish it will automatically be converted into Hindi. Also, you will get suggestions for the best suited Hindi word according to your text which you can choose from the lists.
Note: This method requires Internet connections to continue dictation
Final Words
Although both of the methods explained affair does their task in the best possible way. And I can assure you that you can do everything and anything using both methods. But there is altered scope for better tools that can make our life even easier. If you know of any such tool then we will be happy to feature you in Oour article. You can always comment your doubts and suggestion in the comment section below.