With an ongoing drive for COVID vaccination in India government is trying every way to ease the process to download vaccination certificates. A vaccination certificate becomes very much necessary when you are traveling via domestic/international flights and hotel bookings. There are several other ways to download the vaccination certificate but in this article, we will be discussing the Whatsapp method only.
So, in this article, we will provide a step-by-step guide on how you can download your vaccination certificate using WhatsApp.
Download COVID-19 Vaccination Certificate on WhatsApp
The best and the easiest method is to follow this link (https://bit.ly/3jnXqme) to directly go to the WhatsApp MyGov Corona Helpdesk chatbot.
If the above trick didn't work for you then you would require to add the MyGov Corona Helpdesk chatbot to your WhatsApp list. So, add the mobile number +91-9013151515 to your contact list before proceeding further. We suggest saving it as the MyGov WA Chatbot to ease the process.
And of course, you must have received at least one dose of vaccination to generate the certificate. So keeping in mind that you have followed the above steps, let's get into the steps.




Steps to Download Vaccine Certificate via WhatsApp
Step 1: If you have gone through the link then you can skip step 1. Now for those who have saved the MyGov Corona Helpdesk chatbot number, search it in the WhatsApp contact.
Step 2: Now send "Download certificate" for which you will get an automated reply. An OTP would be received on the registered mobile number with WhatsApp.
Also read: How to Enable Google Chat in Gmail account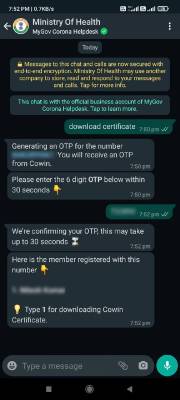 Step 3: In the next step you have to send the correct OTP in the chat. Within 30 sec you will receive an automated reply. Then you have to type letters 1 to 3 if you have more than one registered member with the same mobile number.
Note: In my case, I have only one registered member so I'm getting the option to Type 1 only.
Step 4: Type the appropriate letter and there you have your certificate available in your chat directly. Now you can download and save it wherever you like.
Download COVID-19 Vaccination Certificate on WhatsApp
Now, this is by far the easiest method to download the vaccination certificate. Well, I found that something called language selection was missing which is crucial if you are reaching a larger audience. There are the majority of people who don't know English in India. Hope to get language support in the future too.