Telegram group voice call feature is already working in Telegram groups since December. Now Telegram is testing the possibility of group voice chat in Telegram channels. This was already speculated and now it has arrived with the latest beta update. Today in this article we will take a closer look into this.
Start Group Voice Chat in Telegram
At this point in time group, voice chat is only available for the Telegram group. If you are using the Telegram 7.5 version you won't get this feature. This feature has come exclusively with the Telegram 7.6 version update which is currently in the beta stage. You can download this update from Microsoft AppStore. Of course, you have to install this APK from unknown sources.




Creating Voice Chat In Telegram Channel
Like in the Telegram group this chat creation is also restricted to channel owner & admin only. If you are a channel owner then you have to just tap on group info > 3 dots and then > Start voice chat.
You can select to start the voice chat as personal or any other channel owner whichever you own. You can start the chat in one channel as another channel admin. So this is a kind of cool feature which was not available in the Telegram 7.5 version.
Also read: How to Create Telegram Channel in 2021
Managing Voice Chat
Once the voice chat is created anyone from the channel can join but he will be muted until approved by admin. Once you click on the 3 dots you can edit the chat title, Record the conversation, share the invite link & end the voice chat.
The chat recording feature was not available in the last update so this is an additional treat. If you click on the share invite link then there will be two options to create links. You can either create a link of type "Can Speak" or "Listen only" link. So this makes it easier for the admin to better control the voice chat with the audience.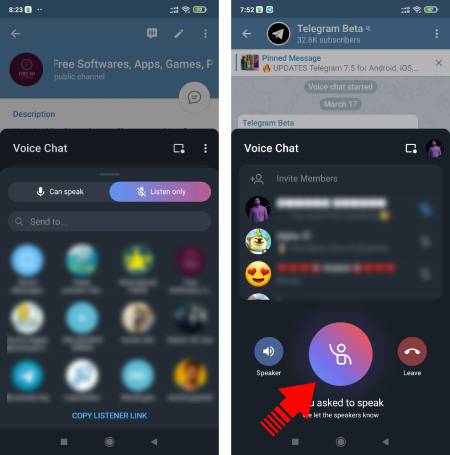 If you have joined the listen-only invite link then you can ask the admin to speak. If the admin approves the request you can speak.
Also read: Best Telegram Bots Everyone Should Know in 2021
If you are annoyed by someone's voice then you can actually control their voice and even mute them. To do that you have to press and hold on to the user's avatar and then the volume control & mute for me option will popup.




Display Voice Chat Over other Apps
If you are on Telegram only to join voice then you don't need to run the Telegram app. You can actually close the Telegram app and still, the voice chat will be running.
Just tap on the square box and then you will be asked to allow "Display over apps". Once you allow and go back the voice chat starts running in the floating bubble which you can drag and move anywhere on the mobile screen.
After this even if the app is closed from the minimized panel, you will be able to access the voice chat.
Final Words
So this is how you can enable & control group voice chat on the Telegram channel. This feature is in the beta phase and will be coming in a stable update within a month. There are many more features that are in the queue and there are many Telegram features that are still hidden from your eyes. If you are a regular visitor of our website then you must have seen some of the cool features.