Telegram is one of the most powerful instant cloud messaging applications. The telegram messenger application is packed with features which is the best in the world. This has seen a drastic increase in userbase after the WhatsApp privacy controversy. This is such an innovative app that no one ever leaves the app until and unless it is personal. Although i don't see any point to delete Telegram account permanently but if you want to do this there is an easy way.
Delete your Telegram Account Permanently
There are practically two methods to delete any Telegram account. We will discuss both of methods in the below article.




Delete Telegram Account permanently through App
In the Telegram app, there are self-destruction settings that let you delete your account if inactive for a certain number of days/month. By default, the account is set to destroy in 1 Year if remains inactive. But you can reduce it to min 1month by going into setting > Privacy & Security > Delete my account.
Then select the time frame from the list and the minimum time is 1 month before your account gets terminated. This is the minimum time you have to wait to delete Telegram account. But if you don't want to wait for a month and really pissed of with this app then you can go to the web browser-based method.
Delete Telegram Account through Web Browser
There is no 'delete account' option in the Telegram app, it has to be done through a web browser either on your mobile device or computer. Follow these simple steps:
Step 1: Go to the account deletion page put your number in the correct format with your country code(For e.g. +91 for India).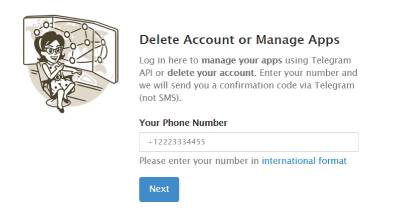 Also read: How to Transfer Channel or Group Ownership in Telegram
Step 2: To verify this number you will receive a secret code on the Telegram number.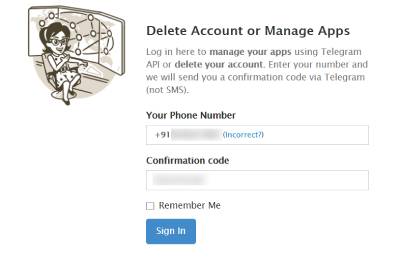 Step 3: On the next page you will be asked to provide the reason for leaving the Telegram.
Step 4: A pop-up asks 'Are you sure?' Click 'Yes, Delete My Account'. After that, your account will be deleted and all data will be wiped out from the Telegram database.
This is not the end of your Telegram journey, you can always come back and start a new Telegram account. But you can't get your data back once it's wiped out. So there is a way to backup all your data before deleting your account.




Backing up Telegram Data
You can export all your chats, photos, and other media. You will need the latest version of Telegram Desktop to download your data in JSON or HTML formats. To export your data:
Open Telegram Desktop and select 'Settings'.
Select 'Export Telegram Data'.
Then select 'Export Chat History', and choose which type of data you would like to export.
You can now view your Telegram data offline.
Final Words
This article gave you full insight on how to delete your Telegram account and backing up as well. This is all that we think is useful to you, but if you have any doubt you can always comment below.