If you already own a Windows PC or using some other OS, in both cases you can actually download windows 10 ISO for free. There can be various reasons for downloading Windows 10 ISO file. Whether you are installing windows for the first time or you want to clean install the windows. Either your system has been affected by the virus or you want to remove bloatware completely. Whatever be the reason you need windows 10 ISO files to clean install windows on your system.
If you don't know the windows 10 ISO file are available freely on the Microsoft official website. All you need to know is the way to create an ISO file of Windows 10.
Download Windows 10 ISO Free
Go to the windows 10 download page where you can see update your Windows or create Windows 10 installation media if you are using Windows OS. Then scroll down and go to the create windows 10 installation media.
Download & run that tool where you will have to first agree to the terms. Then it asks "What do you want to do?" As you are interested in downloading the ISO file, select the Create installation media and then click on next.
Also read: How to Create Bootable USB for Windows 10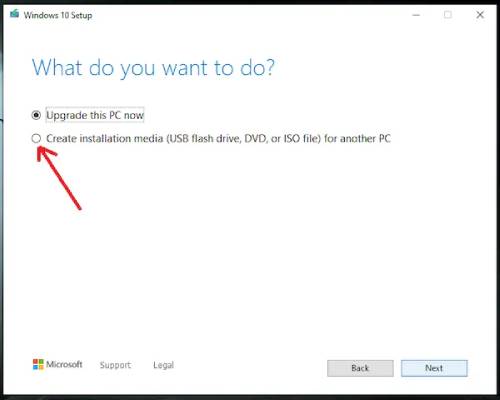 If you are using a non-windows PC then you will get the direct option to download the ISO file. Now click next and select the language and then select the 64bit 0r 32bit version to download.




If you don't know the version of your Windows PC then go to my computer > properties. There you can see the version of your PC. Usually, most modern PCs are 64bit only so i would recommend you to download 64bit.
Is Windows Free?
No, windows is not completely free to use. You still have to activate the windows to get its full potential. Although you can still use it without activation but some key features will not work.
Windows 10 System Requirements
If you are planning to install Windows 10 on a system, make sure it has the necessary hardware. Here are the minimum system requirements for Windows 10.
Processor: 1 GHz)or faster processor or SoC
RAM: 1 GB for 32-bit or 2 GB for 64-bit
HDD:  16 GB for 32-bit OS / 32 GB for 64-bit OS
Graphics: DirectX 9 or later with WDDM 1.0 driver
Active Internet Connection