Hibernate, as the name suggests is the state where everything remains at the same state when put on hibernation. So in windows when your computer hibernates, it takes a snapshot of your system files and drivers and saves that snapshot to your hard drive before shutting down. In this was windows reboot faster and exactly at the same position where you left. This is best when you are working on a long project which you can continue without closing the program.
Instead of sleep, you can hibernate to save battery. So this is the best option when you do work on long and multiple projects. But by default Windows 10 doesn't provide this hibernate option, Don't worry, it's really simple to bring the hibernate option back. If you love this feature then you must go through the below step-by-step process to enable hibernate in windows 10.




Enable Hibernate in Windows 10
Step 1: Go to Windows 10 start menu and search "cmd" then right-click on the Command Prompt and "Run as administrator".
Step 2: Type the following command: powercfg /availablesleepstates, and hit Enter. If "The following sleep states are available on the system" shows hibernate option then your hardware supports hibernate option and that is disabled by your system.
---
Note: If it doesn't show in the "The following sleep states are available on the system" then your hardware doesn't support hibernate, which means it is impossible to get hibernate option.
---
Step 3: If you see "Hibernate" on the list of power features enabled on your computer, then type the following command: powercfg /hibernate on and hit Enter.
If nothing happens then hibernate option is enabled. However, if an error message comes where your hibernation is disabled by a guarded host then click on the link.
Also read: Windows 10 keyboard shortcut you Must Use in 2020
Step 4: Now in the power option you should see a hibernation option. You can enable and disable the hibernation by these commands powercfg /hibernate on and powercfg /hibernate off respectively.
---
Note: If the above step wouldn't let you enable hibernate option in windows 10 then you have to go through additional steps which are explained below.
---
Step 5: Hold down the Windows key + X to open the Power User menu.




Step 6: Select the Power Options from the menu.
Step 7: Look for "Additional power settings" on the right side of the window. Tap on the "Additional power settings" to go to the power settings page.
Step 8: From the left side tap on "Choose what the power buttons do".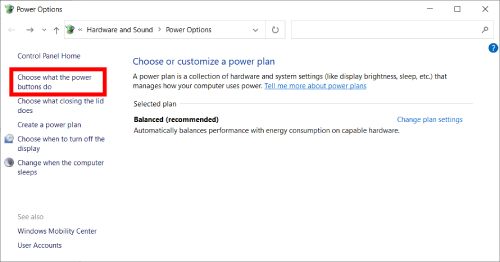 Step 9: On this page, you can see all four shutdown settings but the Hibernate option is not selected and the checkbox is also disabled.




To enable this checkbox tap on "Change settings that are currently unavailable" and then select the hibernate option.
Step 10: Check the Hibernate option, and click the Save changes button to enable hibernate in windows 10.
Step 11: Go to the Start menu, select the Power menu, and you should now see the "Hibernate" option. (The option will also appear throughout all the Power menus available in the operating system.)
Final thought
If your device hardware supports hibernate, and you followed the above steps carefully then you must get this hibernate option. Every user should use this hibernate option to save extra time and start work from where they left. If you have any issues or suggestions regarding this article, feel free to comment below.