WhatsApp Messenger, or simply WhatsApp, is an American freeware, cross-platform messaging, and Voice over IP service owned by Facebook, Inc. It allows users to send text messages and voice messages, makes voice and video calls, and share images, documents, user locations, and other media.


Being a popular messaging service it is used by many official businesses & individual users. For businesses, it becomes very necessary to reply to potential customers even if you are not available. And here are some situations where individual users want to set auto-reply messages just for fun.
Well for both conditions there is a workaround using both official and unofficial methods. In this post, we'll help you set up/enable the WhatsApp auto-reply feature.
Also Read: How to Download WhatsApp Status Videos and Photos
There are two ways to set up auto-replies – Using WhatsApp Business and Using Third-Party Application.
WhatsApp Auto Reply Using Whatsapp Business App
WhatsApp Business is a platform meant for small and medium businesses. It allows you to set up "away messages" for when you're not available or online.
Step 1: Download the Whatsapp Business and complete setup. You can also use the same number for Whatsapp Business & Whatsapp.
Step 2: Now click on the 3 dots on the top right corner and goto the "Business Tools". There you can set up your business profile, Catalogues, Away Message, Greeting message & Quick replies, etc.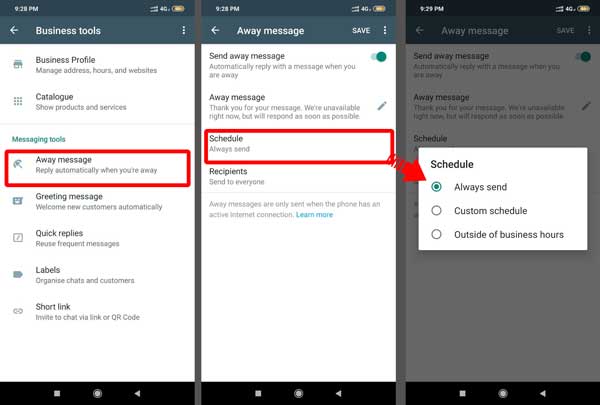 Step 3: Go to the option Away Message and then tap on Send away message. There you can set the custom Away message otherwise default message will be delivered.
Step 4: You can also schedule the messages to be sent. You can also set your business hours to manage auto-replying during specific time durations.
WhatsApp Auto Reply Using Third Party Applications
There are many third-party applications that can do this task but the application which we are using is the most reliable one. This application does the task very perfectly without any delay or miss.
And the best part is that it works with all versions of Whatsapp whether it is official or unofficial. Now, let's move to the setup procedure:-
Step 1: Download & install the AutoResponder for WA app from the play store.
Also read: How to backup WhatsApp chat in smartphone
Step 2: First jump to the setting and choose the version you want to set auto-reply and keep other settings to the default.
Step 3: Go to the plus button at the bottom and start setting the message. First set the incoming message, click the tick button, and on the next page set the reply message.
There are some advanced features that are available for the pro user that you can try for free.
Step 4: Like this, you can create multiple combinations of incoming and reply messages. These combinations will be saved and you can enable it individually depending on your requirement.
Final Words
These are not the only method to set up Whatsapp auto-reply but by far this is best as per my opinion. Well in case of any doubt or suggestion, you are free to comment below. Follow us on all social media platforms for diverse and interactive content.