There are 300 million WhatsApp users who text using the app every day, which is way more than the nearest competitor i.e. Facebook Messenger. On average, we spend 3 hours a day on Whatsapp messenger. Smartphone emits huge light and constant staring at smartphone produce a lot of stress on our eyes. Since we are addicted to smartphone and most of our work is done by smartphones so it's very difficult to avoid smartphone. So instead of avoiding smartphone, you can move to a lot easier solution which is switching to Whatsapp dark mode.
Whatsapp Dark mode is the most awaited feature which is now available for beta testers only. If you a beta tester or enrolled in the beta programme then you must have received updates. Other if you go to the play store and search in the WhatsApp you can see "Beta programme is full". So technically you will not get update till the stable version is released. But this is not the dead end, this is where we come into the picture. There is a reliable and secure third party alternative which you can trust upon.
Read also: Top 10 Features of Microsoft Edge Chromium against Chrome Browser
Downloading Whatsapp Beta
The Whatsapp beta version 2.20.13 or later brings "Whatsapp Dark Mode" support. This WhatsApp version .apk file is available to download from ApkMirror. Go to the Apk Mirror and download the .apk file in your directory and install it.
Note: Don't Uninstall the previous Whatsapp version otherwise you may loose all your data.
If this the first time you are installing anything from an external source then you have to allow permission to "install the app from unknown sources". This you can do at the time of installation when prompted or alternatively go to Setting > Apps > Manage Apps > Chrome > Install from Unknown Sources > Allow. The path may differ depending on your smartphone but more or less it will be same.
Setting Up Whatsapp Dark Mode
Whatsapp dark mode or theme is very easy to setup. By default, the interface will be in light theme. To switch into dark mode go to the Setting > Chat > Theme > Choose Theme. In the theme option, you get three option to choose, out of which one option is dark. Choose Dark theme for a seamless switch to the dark mode.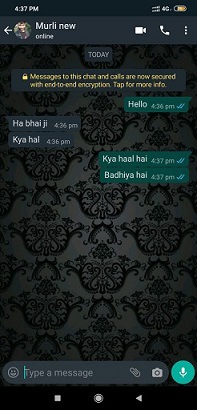 The dark theme for Whatsapp is not actually dark. It's kind of greenish-black look which still feels cool and soothing to eyes. As you can see the chat text is also in green colour so technically Whatsapp has tried to preserve its green look even in dark mode.
Wrapping Up
Whatsapp dark mode is still in the development mode so you might face some issues. Well, still it's worth try if you love dark mode concept. If you like this article please do subscribe our youtube channel also.