Canva is a very known website among creators, graphic designers, or digital marketers. Well, this platform is a very simplified version of Photoshop with immense opportunities. If you know how to use it then it's a gem. Even a naive person with creativity can bring a gem out of it.
Canva allows you to easily create graphic designs such as Instagrams post and stories, business cards, invitation cards, logos for your brand, flyers, poster, brochure, social media animations, and so on.
What is Canva?
Canva is a Sydney, Australia-based graphic design platform that was launched on 1 January 2012. It was founded by Clifford Obrecht, Melanie Perkins, Cameron Adams. It is available worldwide in more than 100 different languages. This platform was made by keeping in mind a non-designer population that can run on any lightweight system and even on smartphones. Everything is hosted on the cloud and run on the browser so you don't require any high-end system.
Canva is very much popular among social media marketing individuals because it helps to create very high engaging content consistently. It has free as well as paid plans and they also offer many other subscription plans. It is also available on android, ios and as a web-based app.




Also read: Top 3 Websites to Download free Ebooks Online
Canva Free vs Canva Pro
Well for starting out Canva is free to use and you get almost everything for free for basic use. But once you dive into advanced graphics designing or looking for commercial projects then there is so much to do with Canva Pro. Here in the below table, you can see what you get in Canva pro vs Canva.
| Canva | Canva Pro |
| --- | --- |
| 250K Free Templates | 420K Free Templates |
| 200K Free photos | 71M Free photos |
| 57K Free graphics Elements | 4.5M Free graphics Elements |
| 13K Free Videos | 2.5M Free Videos |
| 1700 Free fonts | 3000 Free fonts |
| 75 Free audio tracks | 25K Free audio tracks |
| 6 animation effects | 14 animation effects |
| 2 free folders | Unlimited folders |
| 5GB cloud storage | 100GB cloud storage |
| 1 brand kit(very limited) | Brand kit pro(no limitations) |
Why Canva Pro?
The above table gives a rough comparison between Canv and Canva Pro but there are much more that you can do with the Canva Pro subscription. Let's highlight some of my favourite Canva pro features which I use on daily basis.
Background removal: Remove the background of any image in just one click with great accuracy.
Magic Resize: Instantly resize your designs into any content format. For example, you can resize the youtube thumbnail to Instagram stories or Facebook posts without doing any changes to your template.
Transparent Images: You can download your images into the transparent background in png image format.
Content Planner: Canva Pro lets you schedule your content for all social media platforms. All you've to do is, create stunning designs in advance, schedule them, and Canva will automatically post them according to the plan you've set.
Animator Pro – Create animated graphics with 14 different animation styles that you can download as a GIF or movie format (MP4).
Share Your Designs As Template – Design your own custom template and share it with anyone you want, which is a great way to work in collaboration.
Upload Own Fonts: If you like to work with specific fonts which is not available in Canva then you can easily upload your fonts in Canva pro.
Download Quality: Canva free lets you to download in low resolution only, which is not the case with Canva pro. Here you can set your download quality according to your need from low, medium to high.
Download Designs in SVG – Download your designs in SVG format which is a huge advantage for you if you are a logo designer or want to create any type of vector graphics.
Priority Support: On top of other features you get priority support in Canva pro.
Join loot deals channel 👇👇👇

Join Telegram
Also read: 10 Best Website to Download Royalty Free Images
How to get Canva Pro for free
There are currently two different methods through which you can enjoy Canva Pro benefits. Lets us discuss both in detail with step by step process.




Method 1: Through

.edu

mail address
Step 1: Get the temporary .edu email address
Here in this method, you need a .edu account to login into Canva which you can easily get from the temporary mail website https://10minutesemail.net.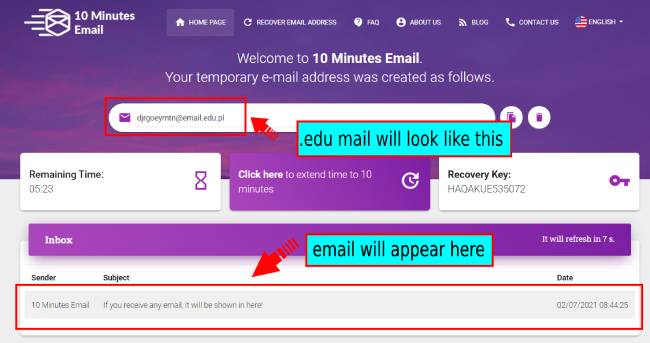 The email address will look like this (xxxxxxxx@email.edu.pl) with the extension ".edu.pl" and if you can't see this email then press the delete button on the right side of the email. Do this until you get the .edu email address.
This is a temporary email id valid for 10minutes which you can also extend before getting expired. But make sure that you do all your tasks within 10 minutes to avoid any issues.
Step 2: Visit Canva for Education Page
After getting a .edu temporary email you need to visit Canva for the education web page (https://www.canva.com/edu-signup). Then click on Sign up with Email and enter that temporary .edu mail. Next, submit an OTP received on that temp mail.
After verifying the email address you will immediately get the premium account for a lifetime.
Step 3: Change the email address
Now as we are using the temporary email then you need to replace this email with your permanent email address. This is very important and you must not miss this step in any case.
To change the email in the Canva account visit https://www.canva.com/settings/your-account and add your own email and verify it.
Method 2: Get Canva Pro Using Invite Link
If method 1 doesn't work then you have to go by this method where you can get pro benefits by getting an invite link from Canva Pro account holders.
Step 1: Go to canva.com and then tap on "Invite Members" on the bottom left side.
Step 2: There you will get several options to invite new Canva members. The new user can use their existing Canva id to become a member.
Step 3: Once the user login through this link, they become part of the Canva Pro network and can easily use all the benefits.
Note: You can use my Canva invite link also: Invite Link
End Statement
Canva pro brings lots of cool features which is worth trying. I hope one of the two methods will surely work for you guys. If you have any new method to get the pro plan for free then do comment here or contact through email: nitesh9431@gmail.com.