Telegram is a cloud-based instant messaging and voice over IP service. Telegram client apps are available for Android, iOS, Windows Phone, Windows NT, macOS, and Linux. Users can send messages and exchange photos, videos, stickers, audio, and files of any type.
At present there are very few verified Telegram account and most of them are owned by Telegram itself. But the concept of verified account is being incorporated and the process is not that tedious. In the below article you will understand how to get blue tick on Telegram account.
Also read: 10 best Telegram channel lists
What does a verified Telegram Account means?
A verified badge is a check that appears next to a Telegram account's name on the profile. It means Telegram has confirmed that an account is an authentic figure and reliable. It helps differentiate real accounts from among fake accounts.
Note: Verification doesn't give any additional abilities in Telegram – it is simply one of the ways to demonstrate that your channel is official.
Can my user account be verified?
Sorry, Telegram doesn't verify user accounts at the moment. Verification is only available for big and active official channels and bots.
How to get a Verified on Telegram ?
The Telegram team generally verifies active official channels, bots or public groups that have verified accounts on each of these services:
Twitter
Facebook or Instagram (one is enough)
YouTube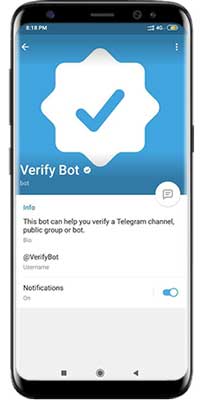 Before starting a verification process please add a link to your Telegram channel to your profiles on these services(Twitter, Facebook, or Youtube) — so that the Telegram Team can confirm that they indeed belong to you.
Also read: Windows 10 keyboard shortcut you Must Use in 2020
Once this is done, you can proceed to @VerifyBot for the verification process.
Go to the @VerifyBot and click start. The bot will ask you to send the username of the channel, bot, or the public group. Press continue now button and further you will be asked to enter the verified account username on twitter, Facebook & Youtube.
Once the twitter, Facebook & Youtube username matched with the telegram username you will receive the verification badge.
Note: If your usual short link is taken on Telegram and you are using the exact same username on other networks, you can claim it for your channel, bot or public group. To do this, contact @username_bot before verification.
Join loot deals channel 👇👇👇

Join Telegram