Recently Facebook bought shares in Reliance JIO Ltd. so people were expecting something is going to come. Amid all speculations, JIO has launched JIO mart which is now live in three cities near Mumbai – Navi Mumbai, Thane, and Kalyan.
JIO is using Whatsapp which is also owned by Facebook, as the platform to place an order. Whatsapp has implied auto-reply bot based on the user response to take orders. So let's have a look at how you can place an order using WhatsApp.



Also read: Corona Virus Symptom Checker Launched by JIO
Place Order on JIO Mart via Whatsapp
Step 1: Save Jio Mart's official contact number 88500 08000 to your phone's contacts. When you do this, JioMart's Business account will show up on your WhatsApp contacts list.
Step 2: Now go to Whatsapp and search JIo Mart. A number will show up click on that number to start a conversation.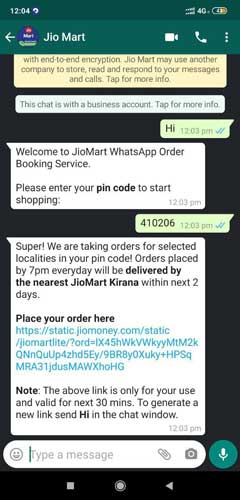 Step 3: Send "Hi" in the chatbox, an automatic reply will show up asking to mention the Pincode. Type your area Pincode, if that Pincode is serviced by JIO Mart then a link of placing an order will show up.
Step 4: Click on this link within 30min as this link expires after that. The link will lead you to the page where you have to fill all details such as Mobile no, Name & Address.



Step 5: Once all details are filled tap on the proceed button to go to the menu page. Select one or multiple items from the menu list and tap on the place order button.
Step 6: Once your order is confirmed you will receive an invoice along with the full detail of the retails shop which is going to deliver the items.
The products you order through JioMart must be physically picked up from the nearest local grocery store.
Also read: Tuned is a New Experimental App from Facebook Solely Aimed at Couples
Currently, JioMart accepts a single payment method – cash. However, we could expect JioMart to offer online payment methods when the service gets a broader rollout. Reliance will sell products with its own labels under the brand names Best Farms, Good Life, Masti Oye, Kaffe, Enzo, Mopz, Expelz, and Home One.
So, that's how you order items from JioMart on WhatsApp. If you're in one of the supported areas, check out the service and let us know your experience in the comments.