A file with the .MKV file extension is a Matroska Video file. It's a video container much like MOV and AVI, but also supports an unlimited number of audio, picture, and subtitle tracks (like SRT or USF).
MKV is often used for transferring high-definition video in compressed space also because it supports descriptions, ratings, cover art, and even chapter points—which is why MKV was chosen as the default video container format for the popular DivX Plus software.
But unfortunately, many of the popular software such as premiere pro, Sony Vegas doesn't support this format. There is no specific reason but the wild guess by the tech community says this.




They can't code for an unlimited number of codecs and maintain performance and stability. So they are continuing support for some codecs that have still a large use in their pro base and discontinuing lesser-used codecs. MKV is definitely a 'niche' use codec, no matter how good it may be.
MKV vs MP4
Matroska (MKV) and MPEG-4 (MP4) files are both video files capable of storing HD video. MKV stores subtitle, audio, and video all in one large file and are typically how Blu-rays and DVDs store data for their videos.
Both MKV and MP4 are multimedia container formats
MKV supports FLAC audios and ASS/SSA subtitles. But MP4 does not support
MP4 is supported by all the video editing software.
MP4 can be played using all types of media players. But MKV can be played by VLC and other rarely used media players.
So here MP4 has added advantage which is why users are looking for converting files from MKV to MP4.
Well, everything is being said but the main question remains the same how to Convert MKV to MP4. You will get all your answers in the below post.
How to Quickly Convert MKV to MP4 
There are many open-source and paid software which can convert MKV files to MP4 but in most of the case, you will get an unplayable mp4 file as an Output.
The best way to convert your MKV is by using a VLC media player. This media player act as an MKV converter for free. Conversion can be completed in a few simple steps. The VLC media player is free to use and most people already have it as their default video player.
1. Convert MKV to MP4 using VLC
Step 1: Open VLC media player and from the Main menu select Convert / Save
Step 2: No add the media file for conversion by clicking the add button




Step 3: If you want to add subtitles to the video then select the "use a subtitle file" and browse the subtitles and then press the convert/save button below.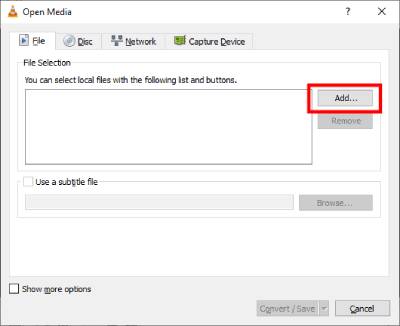 Step 4: Now select format from the dropdown list. The most acceptable and recommended format is "H.264 _ MP3(MP4)" so, select this from the dropdown list.
Also read: Top 10 Google Search Tricks Everyone Should Know In 2021
Step 5: Now click on the setting icon where you have to select the profile edition.
Choose the following profile setting:-
In encapsulation, section Check MP4/MOV
Under video codec check both "Video" and "Keep original track"
Similarly, check both "Audio" and "Keep original track" under the Audio codec
Save the changes
Step 6: Use the Browse option to select the destination folder to save the Output file.
Step 7: Now click on the "Start" to begin the conversion process. The conversion process will take a few minutes only depending on the video size.
2. Convert MKV to MP4 using Handbrake
Handbrake is a completely open-source video converter so it is completely free which you can download from here.
To convert MKV to MP4 using Handbrake, you can follow these steps.
Step 1: Launch the program, you'll be asked to open the file you want to convert. You can use the prompt in the sidebar or drag the file into Handbrake. you can also select the whole folder or selecting a single folder will do.
Step 2: Now select the .mkv file which you want to convert and feel free to see all the customization tabs. This will provide more flexibility to what you intend to get.




Step 3: In the bottom go to browse and select the save as location.
Step 4: Once you are done with the above steps click on the "Start Encode" to start the encoding process.
3. Convert MKV to MP4 using Prism
You can convert the MKV files to MP4 very quickly using another free video converter like Prism from NCH Software.
Also read: Best Way To Convert Any Image To The Editable Text 
Step 1: Download and install Prism and drag & drop the MKV file to the Prism. Alternatively, you can also use the 'Add File(s)' option to browse the file and add it to the console for conversion.
Step 2: Select the folder to save the converted file along with the output format. In your case, this is MP4 format (but this supports other video formats like wmv, flv, avi, divx, mov, and many more).
Step 3: Prism also allows you additional conversion options like Encoder settings, frame rate, video resize, or video effects. Make the requite selections.
Step 4: Once you are done with all the settings then click on the Covert. It's that simple, easy, and quick but takes Lil bit extra time than the VLC method.
Final Words
Well, these are truly the best free method to quickly convert MKV to MP4. This method works best in every scenario and in most of the case, the output is error free. If you have any other suggestions or doubts related to this method please feel free to comment below.