As per some surveys an average user spends 2 hours of time reading anything on their mobiles. Reading on mobile requires your concentration which exhausts you as well as at the same time its has very bad effects on your eye.
Now you must have noticed that instead of reading if someone is narrating you something it is easier to understand and faster to complete any paragraph. And at the same time, you don't have to stress your eye which is cool and time-saving.
Now you must have understood that I am talking about voice dictation for reading any kind of text present on your phone. So if you are interested then you can quickly dive into the below article.
How to Read Fast on Mobiles
Now today in this article you will get to know two fantastic methods to start dictation mobile devices. Both of the methods are equally beneficial.
Method 1: Using google assistant "OK Google"
In this method, we are going to take advantage of the native google assistant which is available on all android devices. Now you must be wondering how google assistant can do this. Well, google assistant can do much more than your imagination. If you are wondering how, then read the below article carefully.
Step 1: First of all activate google assistant if you haven't already. Then open any article of your choice.
Step 2: Now saw "Ok Google, read this article"
Step 3: After some time google audio player will open and automatically starts reading the article contents.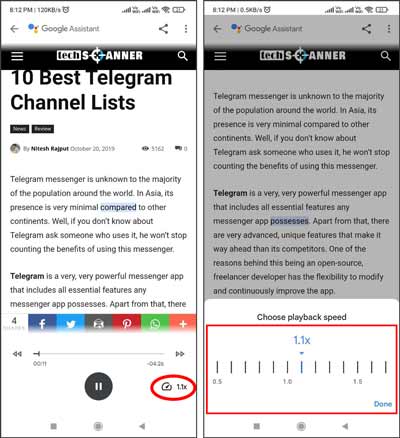 Step 4: This player has to play, pause, forward, backward, and at the same time speed control. You can make dictation run slow and fast by clicking on the speed meter icon.
Step 5: You can even listen in your favorite language and voice which you can access by clicking on the 3 dots. Tap on the "Translation" to listen to the article in your favorite language and tap on the "Read aloud voice" to change the voice.
So in this way, you can read an article in the easiest possible way.
Method 2: Using google assistant "OK Google"
To perform this method there are two basic requirements:-
The combination of these two applications is the key to reading faster. Don't want to believe me? then continue reading below.
Also read: Top 3 Best Ways to Use Voice Typing in Computer/laptop
Step 1: First install Chrome browser(or any browser) and Pocket app
Step 2: Now whatever you are reading share and save it to the Pocket app
Step 3: Once you have saved it to the Pocket App, launch the Pocket App, either from Quick Actions or by going to the App Drawer
Step 4: Now go to the Pocket app and you can find saved articles there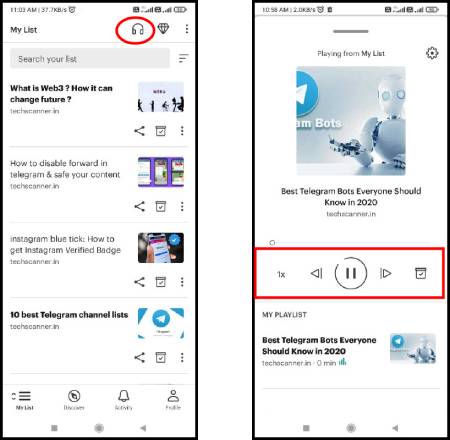 Step 5: Tap on the top right corner, and then tap on the "Listen to Article".
The reading speed can be adjusted according to your need and liking. The reading feature of this app is designed in such a way that it can automatically shift to another paragraph so that there won't be any kind of interruption while reading the article.
If you ask me, my recommendation would be to use headphones while reading. In this way, you will have a better listening experience.
Final Words
Although there are many other methods to read the article this one is one of the best and handy ways to do that. If you like this article there are other useful articles which you might find interesting on our website. So you can check out important articles here.