Google meet has widely being used for virtual meetings, online classes, and regular virtual hangouts. This is one of the most popular & reliable video conferencing application which is being used worldwide. Google meet was initially available for only G-suite subscribed users which is a paid service. But later it was made free to use with some minor limitations.
And obviously, you are not privileged to get an automatic attendance recording facility in the free plan. Not to worry, here we have come with the best possible solution to record google meet attendance. In the below article you will learn how to record google meet attendance.




Record Google Meet Attendance in Windows PC
Here we are going to take the help of an extension/addon which is freely available for chrome as well as Firefox browsers. This extension is also very much compatible with chromium-based browsers such Brave, Opera, Vivaldi, Edge, Epic, etc.
The extension does not require extra permissions other than access to meet.google.com. The list of invitees is retained in a LocalStorage variable but none of that information is transmitted or shared elsewhere by the extension. All of the source code can be viewed at this public repository.
Also read: Now Zoom Virtual Background is Available for Android Smart Devices
See the extension in action
Step 1: First add extension/addon in Chrome or Firefox browser.
Step 2: Next launch Google meet in your browser and start a meeting. Share the joining link with participants and ask them to join the live session.
Step 3: Once the meeting is started you can see a floating attendance sheet by default, it appears on the left side, but you can drag it wherever you want on the screen.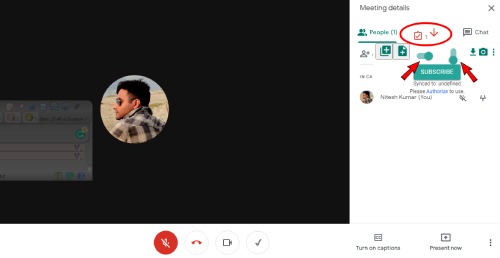 Step 4: Hover the mouse to the top right where you can see another tab beside people. There you will see two toggle button, make sure to enable both of the toggle buttons.




Step 5: Whenever anyone joins the floating attendance sheet will keep a record of the joinee sorted by the first name. This will also record the joining time which can be exported anytime in the excel/google sheet.
Step 6: Clicking on the gear icon at the floating attendance sheet will let you tweak some of the basic settings.
Also read: 8 Google Translate Tricks Can be a Life Saver in 2020
Step 7: Finally you need a record of all attendance with the timestamp on excel/google sheet. For this, you have to click on the save icon at the floating attendance sheet and export to sheets.
Record Google Meet Attendance in Android
Google chrome for android doesn't support extensions but there is another browser called KiWi browser which has extension support.
Install the KiWi browser on your android device and open the browser on desktop mode. No go to the chrome web store and search for Google meet attendance or you can follow this link. Next select add to chrome to install this extension on your KiWi browser.
Now you can start meeting using Google meet on your browser and the further steps will be the same as explained above for windows PC.
You can also follow the below youtube video to learn the step-wise process of installing & using an extension on the KiWi browser.
Final Words
Well, every extension has some bugs and this also has which needs to be addressed. You can raise any issue and see the issues raised by other users and moreover, you can also scroll through various tricks and solutions. I hope this article helped you in recording google meet attendance. If you have any query do let us know in the comment section below.