The presentation has become a major part of our life. Not only for corporates but from the very childhood the presentation is incorporated in our curriculum. No doubt its an added advantage if you have good presentation skills. Well, the presentation can be made on many other platforms but we have an emotional attachment with MS Powerpoint.
Also read: Recover Deleted Files from Hard drive
On very occasions, you might need to protect your content from getting circulated elsewhere. It might contain some sensitive data or some unique idea that need to be protected. To protect your file you generally save it to a very secure location or encrypt it with the password. The latter method is the most secure one everyone knows.
Let's say you have protected the Powerpoint project with a password, but after some span of time, you feel that the data is obsolete now and don't want to go with the hassle of putting your password every time when you open this file. Obviously the next step would be to put password protection in the trash. It seems very simple at the beginning but I wouldn't be writing this article if it had been so easy. Microsoft has made it difficult and for no reason. Microsoft if your bing search engine has crawled through my article then I request you to fix this. So in the below article, you will learn how to remove the PowerPoint password.
How to Password Protect Powerpoint Presentation
MS Powerpoint password encryption is very easy to set up by going to the File menu > Info Tab > Protect Protection > Encrypt with Password and set the password of your choice.
How to Remove Powerpoint Password
1) Go to MS Powerpoint and open a document.
2) Go to the "File" menu and jump to "Save As". Alternatively, Save As option can also be accessed by shortcut key for this by pressing Ctrl + Shift + S on the keyboard.
3) Now go to the "Tools" menu and click on the General Options
4) Then in the general option go to Password to Open section and delete the password going into that box and pressing the backspace button.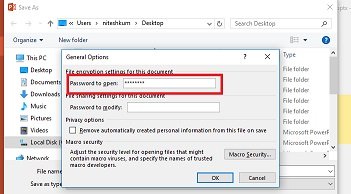 5) Now leave that box empty and click OK button and save the file. That's it, your file is now without any password protected.
Wrapping up
Though most of us nowadays use MS PowerPoint for different purposes barely anyone knows to remove password protection. I don't know if it is the right method, however, if you guys know any other method then please do reply in the comment section down below.