When we think of typing in Hindi two things come to our mind. First using Hindi keyboard secondly, using a tool that converts Hinglish to Hindi. For the Hindi keyboard, it is compulsory to learn Hindi typing which is not kind of logical in the current scenario. Using Hinglish to Hindi keyboard online is again tedious where we have to copy-paste from that tool every time.
Now, normal users, expect something which can directly convert our Hinglish text into Hindi right into our text panel. Previously it was not possible but now it is possible because Google itself has launched this tool and it works perfectly in any chromium project. Google input tool is a chromium extension that works in any chromium-based browsers such as edge, google chrome, Opera, Brave browsers, etc.
This same keyboard tool is available in Android with the name Google Indic keyboard. You can do the same thing using this android keyboard on your android device.
Also read: Top 3 Best Ways to Use Voice Typing in Computer/laptop
How to Type Hindi in Chrome Browser
Below are the steps to Install and get started with this extension on a chromium-based browser.
Step 1: Install the google input tool extension into your browser
Step 2: Go to the extensions option and there you have to set the preferred language
Step 3: Google has a list of almost all popular languages so you will surely find your regional language too. Now select the language and move to the right by clicking the arrow menu.
Step 4: Now left click on the extension and choose the preferred language from the list of languages. Now in your case, the preferred language is Hindi so select Hindi and then start typing.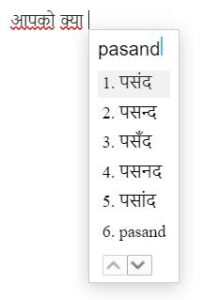 Step 5: Now if you type anything in Hinglish it will automatically be converted into Hindi. Also, you will get suggestions for the best suited Hindi word according to your text which you can choose from the lists.
Note: This method requires Internet connections to continue dictation
Final Word
I have recently discovered this very easy and convenient method. This method works perfectly everywhere in the Chrome browser because Google is the owner of both products so you can use it seamlessly without any problem. And as a content writer, I am personally using it for a very long time and you should also use this to save your precious time.