Zoom video conferencing is now a very common household name after an outbreak of COVID 19. Amid lockdown and social distancing, we are left with only one option of communication which is video conferencing. Zoom and other free video conferencing took great advantage of this situation.
By June 2014, Zoom had 10 million users. In February 2015, the number of participants utilizing Zoom Video Communication's chief product, Zoom Meetings, reached 40 million individuals, with 65,000 organizations subscribed.
Why Zoom Video Conferencing is Popular?
To join a meeting you don't need to signup, invite link or meeting ID is enough to become a part of the meeting.
Zoom is known for its reliability, avoiding long outages that discourage repeated use, and it doesn't have the latency that makes some services painful for an extended conversation.
people can start video calls for free, as long as they're kept under 40 minutes and below 100 participants.
This offers higher video quality and fewer interruptions and a better overall experience.
When you use Zoom, you can upload a picture or a video to create a virtual background.
Zoom is getting all the buzz, even against large competitors like GoToMeeting and Skype as well as Google Hangouts and Microsoft Teams. One advantage to Zoom is that it only makes video-calling products, and has focused on making sure people like them.
Audio and video work well even when people have very unstable connections.
How to Use Zoom video conferencing
Step 1: Download for Android/iOS or Windows/MAC and install it.
Step 2: Now Signup from your Google, Facebook or any email account.
Note: If you are not a host then signup is optional, but its recommended to signup before starting a video conference. 
Also read: 10 best Telegram channel lists
Step 3: Open Zoom video conferencing service in desktop or mobile clients.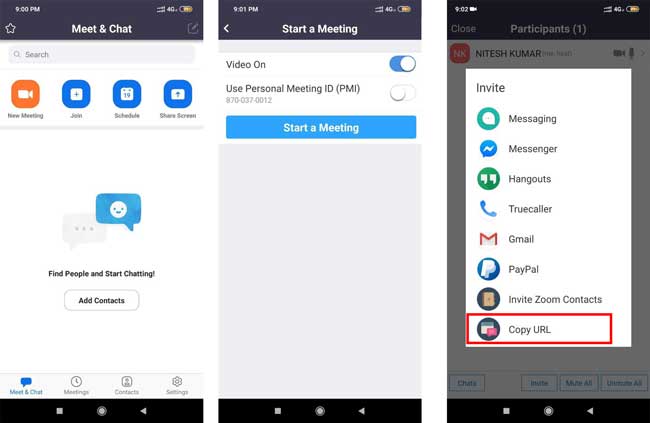 Step 4: Here you can create a meeting, Join Meeting, Schedule meeting or Share Screen.
Step 5: Click on the new meeting to start a new meeting and then click on the Start a Meeting button to begin meeting. A popup window will ask you for camera & microphone permission which you should obviously allow it.



Step 6: One meeting window is prepared you can share the link to your potential participants by clicking the Participants button at the bottom. You can share the link via different sources or just copy the link and send it.
Step 7: Once the user clicks the invite link, he will be redirected to the ZOOM app on mobile and desktop.
Step 8: As soon as any participants join via your invite link a popup window will ask you to verify. This is a security measure to avoid entry of any unauthorized participants in your video conference.
This app holds the power of not just video conferencing but much more than that. While in the meeting you can share photos, documents links, etc. by just clicking the share link.
You can even change the meeting setting while in an ongoing meeting. Some setting changes must be done to take full control of video conferencing.