IPL fever is on and dreams 11 sponsored IPL 2020 is being played in UAE outside its real audience. So you can't watch the IPL live in the fields, not even in UAE. Which leaves us with only one option, i.e. online streaming. The streaming right is given to Disney + Hotstar which is a premium service provider. So you need to take a subscription to watch IPL matches. Also if you are thinking you can use your friends Hotstart ID then you are out of luck here also. Because you get only one screen that means at a time only one person can watch from a Hotstar ID.
Like you, I have also searched for different apps to run IPL for free. But as I have noticed most of the apps are scam and of no use. Very rarely you can find genuine apps that do what it says. In the below article you will learn how to watch IPL for free.
Also read: How to Use Google Keyword Planner for Free in 2020
Watch IPL for Free on Mobile/Smartphone
 Step 1:  Go to the website and download the GHD Sports .apk file. Alternatively, you can download from this Link 1 or Link 2.




 Step 2:  Install the .apk file and make sure that "install from unknown sources" is enabled.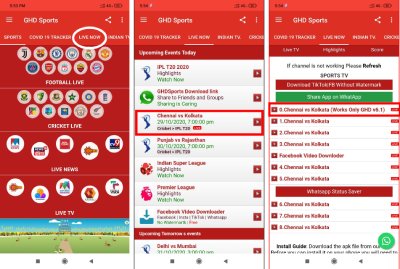 Step 3:  Now run the app GHD sports application and go to the cricket live section. And go to the live match section and select the first any link from the top whichever works.
Step 4:  Once the live match is loaded you can go to setting gear and change the streaming quality.
Wrapping Up
The streaming quality is amazing, which I never expected from a free application. Anyway, this is the method to watch IPL for free. But I would recommend you to take a subscription to Hotstart if you can afford it.