Instagram has finally released its short video platform Instagram Reels in India. This lets you create a short video of 15sec(max) duration video with songs, creative filters, and effects. Reels resembles with TikTok and launch in the time when TikTok is banned by Indian Govt. is not a coincidence.
Vishal Shah(VP) says that the product comes from the realization that 45 percent of videos on Instagram is 15 seconds or less. "We also realized that stories are not the only place where they wanted to share these videos as they wanted them to stick on for longer and be distributed beyond their followers," he said in the video call.
Also read: How to delete Instagram account
The latest update of Instagram will bring this feature to everyone. This feature lets the user create a short video, apply the creative filters, and use songs from their catalog. For Reels, Instagram has partnered with prominent music labels to provide a vast collection of songs to users to create interesting Reels and share with everyone.
India is the fourth country, after Brazil, Germany, and France, where this new Instagram video format is being tested.
How to use Instagram Reels
Reels feature is secretly added along with other features. You have to first update the Instagram application to the latest version. And then go to the search option at the bottom where you will find a video with reels icon at the bottom.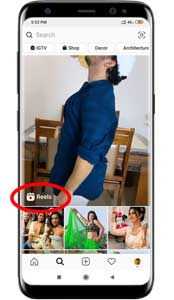 Clicking on the reels icon will direct you to the reels page. Swiping up/down will change the video like it was in the TikTok application. You can like, comment, and share any video with usual effects.
Now if you want to create a new video then click on the camera icon at the top right corner. The interface is quite similar to TikTok where there is an option to add music, speed, effects, and timer from the left menu.
And once you have applied the effect then click on the center button to start recording video. The video duration can be maximum to 15 seconds and video will automatically stop after 15 sec.
Final words
Though TikTok is banned but Instagram has smartly tried to capture the huge Indian audience who were looking for better alternatives. How do you think about this alternative, comment below!!