Voice over Wi-Fi or voice over a wireless network are the same service which is popularly known as VoWifi. VoWiFi is a Wi-Fi based VoIP (voice over internet protocol) service. Where VoIP consists of the hardware and software that enables people to use the Internet as the transmission medium for telephone calls. It is the wireless version of this technology which is designed to work on wireless communication.
Also read: Dark mode for Whatsapp: How to get Dark Mode on Whatsapp Web
Following Airtel, the telecom giant JIO has also launched VoWifi services across all over India. JIO has been testing this technology from the past few months to make a robust entry in the Indian market. JIO has launched this service secretly without any big announcement, and the banner can be seen on their website. As of now, the VoWifi domestic calling is provided free of cost by Airtel as well as JIO; charges may apply for international calls. You must have an active data plan to access this service; call charges will be same, only it will use Wi-Fi to boost network signal.
What are The Benefits of JIO VoWifi Calling
VoWifi calling is developed for the areas which have limited or very low network coverage. Weak cellular reception in homes, offices and shops is a major source of frustration for users. VoWiFi makes it possible for users to make and receive calls reliably, even when indoors without having to install new equipment or upgrade their smartphone.
VoWifi consumes even lesser battery than VoLte, HD calling and faster call connection are the other general benefits. JIO VoWifi calling feature boasts of having
1) Stable and clearer calls,
2) Calls from anywhere in India,
3) extended indoor coverage and
4) Works on any Wi-Fi network.

Supported Smartphones
As of now, not all smartphones model are supported for VoWifi. JIO website has a complete list of all the supported smartphone which can be accessed here. Go to the site, scroll down, then select your brand and find the model. If your smartphone model is listed here, then you are only one step away from activating this service.
How to Enable JIO VoWifi Calling
The below steps to activate VoWifi calling is for MIUI OS, but the steps will be more or less the same for any other smartphones.
1) Go to setting,
2) Jump to SIM cards & mobile networks,
3) Select the JIO sim and scroll down to find Wi-Fi calls,
4) Now toggle enable Make calls using Wi-Fi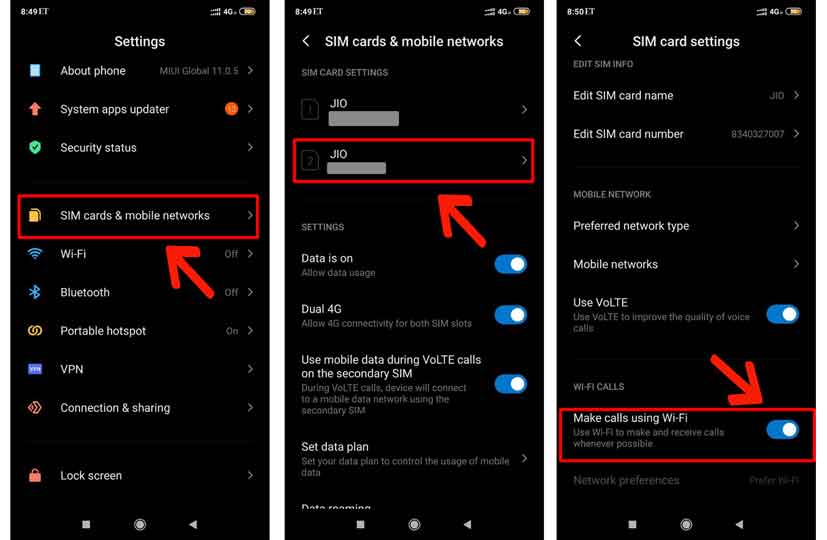 The step explained is device-specific, so it might not be same for you. If you find difficulty in activating this feature, please make a comment in the chatbox. We will try to provide you with the best solution possible.