Indian railway has the largest railway network in Asia and second-largest in the world. More often we love to travel by train. Indian railway is one of the world's largest railway network which consists of freight, passengers, tourist, suburban rail systems, toy train and luxury trains. It has over four thousand operating trains and everyday lakhs of traveller travel by train. Indians prefer to train more than any modes of communication because of its comfort, no limit on luggage & enjoying the scenic beauty.
Indian railway has come a long way from fully manual to completely digital. There was a time when we had to go to the ticket counter to book ticket, but now everything has become so simple from ticket booking to live train tracking. Now online ticket booking can be done by IRCTC and other third party websites. In addition, there are mobile applications which are also very handy for ticket booking as a paper ticket is not required nowadays.
There are tons of apps in play store & apple store which serves Indian Railway both official(Govt).) and unofficial. So, it becomes very difficult to choose the apps which best serve your purpose. Below article will explain the best pick.
If you download an app, then the most common thing which you expect from the app are these:-
a) Ticket booking
b) PNR status
c) Live Train Status
d) The Platform on which train is arriving
e) Seating arrangement
f) Food Service
Also read: Google Opinion Rewards: Earn Real Google Play Credit By Filling Surveys
#1 IRCTC Rail Connect
IRCTC is the official source of the Indian Railway for Online ticket booking. IRCTC was the only source of the of online ticket booking back then, but now there are many other sources. IRCTC rail connect is the app version of IRCTC, which is no less than IRCTC web version. In fact, tatkal booking is faster in the app than the web version. Now with the latest update, navigation is very easy and lot faster than the previous version. You can do almost everything what you can so on IRCTC website and its lot easier & low data consuming.
Apart from ticket booking/cancel, PNR status enquiry it also provides flight booking service, meals and a lot more services. The App is available for Android, iOS and Windows devices.
IRCTC Rail connect Key Features:
Train between stations
Seat Availability
PNR status & confirmation prediction
Upcoming train information
Get Flight booking
Booking Meal
Tourism specific services
Also read: Best Ways To Copy Unselectable Text From Screen
#2 UTS App
The 'utsonmobile' application is developed in-house by Centre for Railway Information Systems (CRIS). The passenger first will get registered by providing his/her mobile number, name, password, gender, and date of birth.
Upon successful registration, the Railway Wallet (R-WALLET) will be created automatically with zero balance to the passenger. There will be no extra cost for creating R-WALLET. R-WALLET can be recharged either at any of the UTS counter or through the recharge option available on the website.
Currently, Paperless Ticket can only be booked for Journey Ticket, Season Ticket and Platform Ticket. Platform Ticket booking is allowed for some selected stations only. You can't book an advance ticket, i.e. the journey date must always be the current date.
Paperless Ticket Booking:
You can book paperless Journey Ticket, Season Ticket and Platform Ticket through mobile application and ticket will be delivered in the mobile app itself. You don't have to keep a hard copy of the ticket, but whenever asked you will have to use the "Show Ticket" option.
Paper Ticket Booking:
You can book a ticket through the mobile application. On booking of ticket, you will get the Booking ID along with other ticket details. After booking Paper ticket, you can go to the journey originating (source) station to take ticket print out from any of the ATVM/Co-TVM there, by entering your registered mobile number and booking ID. The journey is valid only with a printed ticket.
#3 NTES
National Train Enquiry System ( NTES) is also developed by the Centre for a railway information system (CRIS). You can search holiday vacation trips, official trips, tours, and daily commute. This train has much real-time status like live running status, train cancel, train diverted and much more.
Features-
• Spot Your Train with diversion information
• Live Station
• Train Schedule with save feature
• Trains between Stations
• Cancelled Trains
• Rescheduled Trains
• Diverted Trains
• Manage favourite trains, stations and train schedules
#4 IXIGO
IXIGO is a very innovative app which constantly adds new features. It has all features which a general user requires from Indian Railway. Apart from that, it has many features which you can use occasionally use like Flight, Hotel & Bus booking, News, Videos etc. It's live tracking of trains is just amazing. It has one unique feature which you will surely love, the ability to search local trains and metro line.
IXIGO key features:-
• PNR status and confirmation prediction
• Train seat availability
• Trains Running Status and Alarm
• Information about local train and metro lines
• Flight, Bus & Hotel ticket booking
• Multiple indian language support
• News and Videos on go
Also read: Best Way To Convert Any Image To The Editable Text
#5 Erail
It's a very old website which I have been using since 2011. This is the best website for fastest checking the train availability. Its app is equally featured, which provides all information on the go but has certain limitations. The app offers a one-stop window for all information related to Indian trains. eRail.in maintains the largest and most updated trains database of Indian railways. All reserved, unreserved and suburban trains are covered in the application.
Erail Key Features
• Train between 2 stations
• Train Route
• Seat Availability
• Fare
• Running Status
• PNR Status
• Seat Map
• Refund Rules
#6 RailYatri
RailYatri is a complete train app which enables users to seamlessly book IRCTC Train Tickets , check Live Train Running Status, check their IRCTC Train PNR Status, offline Train Time Table, check Seat Availability with confirmation prediction, Bus Tickets, order Food on Train, Offline GPS train status & much more.
RailYatri is an Official IRCTC Train Partner App.
RailYatri Key Features:-
• IRCTC Train Ticket booking
• Live Train Running Status
• IRCTC PNR Status with Prediction
• Book InterCity Smart Bus Tickets
• Book Bus Tickets
• Order Food on Train
• Indian Railways Train Time Table
• Coach Position & Platform Numbers
• Confirmed seats availability on trains
• Switch To Preferred Language
#7 Where is My Train
"Where is my Train" is a unique train app that displays live train status and up-to-date schedules. The app can function offline without needing Internet or GPS. It is also packed with useful features such as destination alarms and a speedometer. It is one of the highest rated travel app in India. Constant updates bring new features regularly.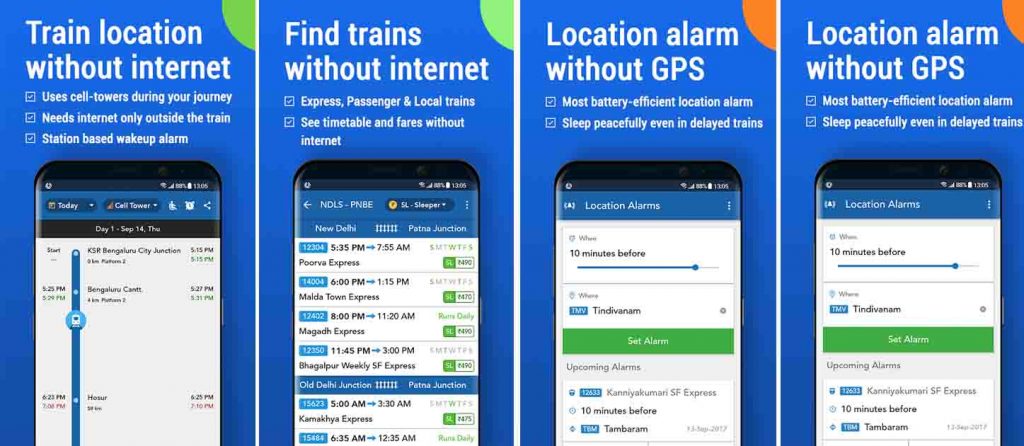 Where is my Train Key Features:-
• Spotting Train Accurately
• Offline Train Schedules
• Coach Layout and Platform numbers
• Super efficient in Battery, Data Usage and App size
• Seat Availability and PNR Status
Also read: Top 10 best telegram channels to subscribe in 2019
#8 TrainMan
Trainman is an IRCTC authorised online travel agent. Train tickets can be booked on Trainman in less than a minute. With secure payment, easy cancellations and fast refund, it is also one of the most trusted apps for train ticket booking. It supports seven languages with in-app facility of ticket booking/cancellation, PNR status, Train Vailability and much more.
Where is my Train Key Features:-
• Train Ticket Booking
• Automagically read PNR number from IRCTC sms
• Train between Stations & Seat Availability
• Train Status, Offline Running Status & Train Enquiry
• Train Timetable & Schedule
• Fare & Refund Calculator
• Platform number, coach position & seat map
• Get food in train
Last Words
These all are the highest-rated apps in for Indian Railway. Every app has some unique features which might suit your requirement. So comment which app you like most and what other apps are worthy enough to be here in this list. If we find that app appealing, then surely the article will be updated.