Can you believe that you can earn 10 lack just by sleeping? That's right Wakefit has come up with the concept of Wakefit sleep intern. In this contest, you have to sleep for 9har daily for straight 100 days without any single daybreak. Well, it's only sleeping 9hrs whats a big deal, but there is more.
What is Wakefit?
Wakefit is a mattress design company which is located in Bangalore. This is a startup mostly owned by pass-outs of IITs & IIMs. They have won several awards for proving the best quality mattress in the competitive price range. Wakefit team deep their neck in full fledge R&D to bring the best quality foams for mattresses.
What is the Sleep Internship?
The Sleep Internship is a unique employment opportunity for individuals to apply for a paid position, where all that's expected of them is deep, uninterrupted sleep for 9 hours, every night for 100 nights in return for a handsome sum. After a rigorous selection process, filled with exciting challenges, a group of super sleepers or passionate sleepers will be selected to be part of the Wakefit Sleep Interns Batch of 2021-22. This is season 2 so if you are still confused? Watch what happened last year.
Eligibility criteria
Sleep for 9 hours every night, for 100 nights.
You have to compete with other participants
Be part of challenges thrown throughout the day
Track your sleep every night
How much do Sleep Interns earn?
The chance to get paid to sleep.
A state-of-the-art mattress to help you get deep sleep.
A tracking mechanism to track your sleep.
A stipend of ₹1 lakh for each sleep intern.
A prize of ₹10 lakhs for the best performing intern or the Sleep Champion.
How to Apply?
To apply you just have to click on the apply button which will lead you to the new page. There you will have to fill the form with your personal details and the most important question "WHY SHOULD WE CHOOSE YOU TO BE A SLEEP INTERN?".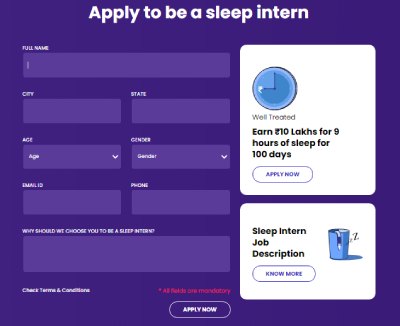 This question has to be answered with utmost care because this is the answer which will lead you to the interview round. Before filling out this form you must visit this page to get a clear idea of what answer they are expecting from you. You will get more ideas about the ideal candidate and basic eligibility criteria for maximum chances of selection.