Realme is one of the fastest growing android based smartphone available now. Realme first appeared in China in 2010 as "OPPO Real". It was a sub-brand of OPPO Electronics Corporation until its separation in 2018, after which it became its own brand under the Chinese multinational firm BBK Electronics.
Also read: Remove Password From PDF File: the Most Easiest method
Realme promised to develop new generation smartphones when she parted away from OPPO. And keeping the promise Realme is all set to Launch 5G smartphone in its home country China by 7th January. Realme X50 5G is the upcoming 5G smartphone. As of now there is no leaked images or video clips, only information whatsoever is leaked by realme official only. The little information which we could gather confirms that it is also planned to be launched in India very soon. Realme announced the launch on the China's popular social media platform Weibo.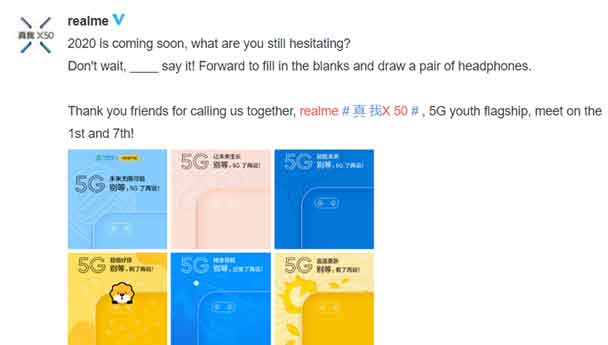 Key Specs
Processor
Qualcomm Snapdragon 765G
Storage
128 GB
RAM
6 GB
Battery
4500 mAh
Front Camera
32MP + 8MP
Rear Camera
60MP + 8MP + 2MP + 2MP
OS
Android
Display
6.44 inch
Key Areas of Improvement
The 5G network in powered by strong Qualcomm Snapdragon 765G. Snapdragon 765G chipset is specially designed for gaming and boast to give boost to the graphics performance.
Five Dimension heat dissipation mode is an extra addition to cope up with heavy usage and gaming.
It is equipped with dual front camera and Quad Rear camera for amazing selfie and photoshoot. Front camera is 32 MP and rear camera is 64 MP along with secondary cameras.
Realme is also rumored to come up with Youth Edition or the Lite edition of the Realme X50 that could directly compete with the Redmi K30 4G variant.