We all remove background from on a regular basis, and the reasons could be several. When we think of removing background from image, the first thing that comes in mind is Photoshop. No doubt PS is the best photo editor and obviously it can remove background in the most precise way. But to use PS you have to be skilled in this software, which is not the case every time. Even if you are skilled it is a time taking procedure. What if you have to remove the background of100 or more images!! Thanks to remove.bg's clever AI, you can slash editing time – and have more fun!
What is Remove.bg?
Well with the rise of AI (Artificial intelligence) things are getting easier and faster. Remove.bg is an online tool of removing background which does its task very efficiently. To remove the background you just have to upload the image and this tool will automatically remove the background. Once the background is removed you can download the image with reduced resolution and for high resolution, you have to opt for a monthly subscription.
Also read: Find Websites That Are Using Your Photos
How to Remove Background
This website removes background 100% automatically in 5 seconds with zero clicks. You can start using this tool without any signup, just upload the image and sit tight.
This is the image I tried to remove background and to my surprise, it did a fantastic job. I was quite surprised that this tool did remove the background in a matter of seconds.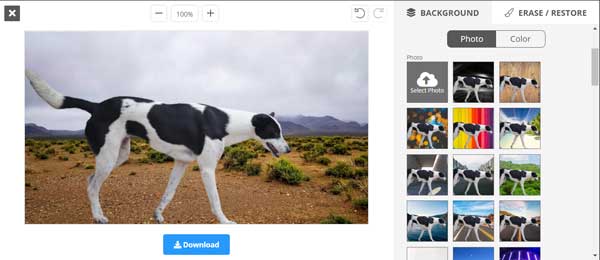 This toll is limited not only to background removal but you can also add custom backgrounds. When Image background has removed an edit (pen) icon will be displayed at the top right corner of the edited image. Click on that pen icon, there you will get option to replace the background or erase the background.
You can either use their image or can upload an image of your choice. And the other option where you can erase some parts of the image if the automatic background removal process is not perfect.
Once the editing process is complete you can download the image by pressing the download button. Free users can download an image size (667 × 374) resolution. The full resolution can be downloaded only if you buy credits (1 credit = 1 full resolution image).
Also read: Best Way to Convert any Image to the Editable Text
Apart from the website they have APIs and Softwares for all major platforms which you can check out here. Remove.bg software is available to download for Windows/Linux/Mac and Android. Plugins are available for Figma, Sketch, Woocommerce, Visual Studio and Drupal.
Remove Background in Adobe Photoshop using Remove.bg
Well, this is not enough, they have Adobe photoshop integration also. This enables us to remove the background of any image in just one click inside the Photoshop application. The extension supports Adobe Photoshop CC 2018 or newer, for Mac and Windows.
Downloading remove.bg for Photoshop is free! To process images, you need credits, which can be used for all remove.bg products and integrations. You can find the pricing for credits here.
As a remove.bg user you get 1 free credit for signing up, and 50 free API calls for preview images each month. Since remove.bg for Windows/Mac/Linux utilizes the API that means you can process 50 preview images (up to 0.25 megapixels, e.g. 625×400) with it for free each month.
Also read: How to Remove Microsoft Powerpoint Password
How to Install Remove.bg for Photoshop
Recommended: Go to Adobe Exchange and click the Free button to install the extension. Make sure you have the Creative Cloud Desktop App installed (version 4.6 or later). Note that the installation can take a few seconds and there is no progress display, but you should see a notification once it is finished.
If installing from Adobe Exchange does not work, you can also install remove.bg for Photoshop with an Extension Install Utility. You can find the instructions for this installation method here.
Wrapping Up
So this is by far the best online tool to remove image background. Although free users have some limitations, but the kind of quality & quick results just make this software unique. Well if you guys have any doubts about this topic do let us know in the comment section below. Also if you have any alternative online/offline tool which can do the same task then please feel free to share in comments.