Youtube is the most popular video playback platform with over 800 million videos since Content ID was implemented. Apart from video, it is also used for listening to music from old to new and podcast is also getting its pace. Since for these, we don't need to watch the video, instead, we expect it to run in the background. But to run Youtube in the background premium subscription is required.
Well obviously running youtube in the background feature is only a small part of Youtube premium. But subscribing to the premium only for background playback doesn't make sense. So here is a quick solution if you are XIAOMI or MIUI user.




Run Youtube in Background
This method will work on devices running MIUI 12 but there is a workaround for MIUI 10 & MIUI 11 users also.
Note: This method will only enable videos to run when the screen is off.
Basically, we are going to utilize the special features i.e. Video Toolbox which you can find in the Setting > Special Features > Video Toolbox.
Also read: 3 methods to play youtube video when the screen is off
Toggle on both Video Toolbox & Video toolbox shortcut. You can also choose the Video toolbox shortcut location to be left or right.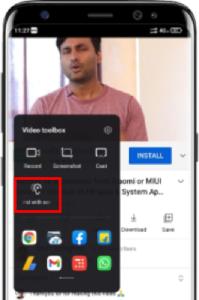 Now go to manage video apps and select the video apps which you want to run in the background. This method works on all video apps including youtube. We have tried this on JOI TV also and it works perfectly fine.




Now go to the youtube app and play any video and there you can see a shortcut on the left or right side of the video. Slide left/right from that shortcut to bring the video toolbox.
Select the small ear icon (Video sound with screen off) to switch off the screen while letting video running in the background. So this is how you can run youtube in the background.