After the latest WhatsApp privacy policy update, everyone is looking for the best alternative. Since the major issue here is privacy & security so, the best apps which suit in terms of privacy is Telegram & Signal.
This digital hoax after the WhatsApp privacy policy update has made it very clear that data privacy is not only limited to the geeks. New age users are more aware than ever. And if we consider the third world countries such as India, Pakistan, Brazil; users are very much concerned about their privacy.
The privacy-centric messaging app Signal has lately seen a huge surge in installs due to Elon Musk's tweet just after the WhatsApp policy update.
Despite having a simple interface, the signal comes with many unique and privacy-centric features. In this article, we have brought you the best Signal Messenger tips and tricks to use this year.




Best Signal Messenger Tips and Tricks for Android & iOS
The signal is a very user-friendly app with a minimalistic design. At first look, it seems that the app has very limited features. But I will make sure that you are going to love this app if you are a privacy concerned person.
1. Enable Screen Lock & 2 Factor Authentication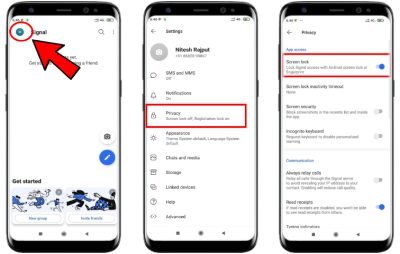 Like another rival messaging application signal also comes with a built-in screen lock feature. Just head on to the Profile icon in the top left corner > Privacy > Screen Lock.
So after this setting is enabled your signal messenger will require a PIN or fingerprint every time you try to open it. You can also set the screen lock inactivity timeout of your choice, preferably 30 seconds is recommended. There is also a persistent notification that lets you lock signal messenger anytime you want.
Also read: 10 best Telegram channel lists
2. Enable Registration PIN
This feature is more like two-factor authentication(2FA) which is already present in many other secure applications. 2FA generally is based on a one-time password(OTP) but here you have to create a permanent registration pin. This registration pin will remain the same until you change it manually.
To delete messages for everyone in the chat:
Open the chat.
On mobile:

Tap and hold on to a message that you have sent within the past 3 hours.
Tap delete.

Select Delete for everyone.
Well, you can delete the sent messages but messages sent before 3 hours ago will not be deleted. This is a constraint set by signal but there is no time limit if you are on Telegram Messenger.
5. Send Disappearing Messages
Disappearing message was always there in Telegram and recently Whatsapp also introduced this feature. The message will disappear from your devices after the timer has elapsed. Disappearing messages comes in handy when you don't want your data to be saved by another user.
This is not for situations where your contact is your adversary — after all, if someone who receives a disappearing message really wants a record of it, they can always use another camera or screen recorder to take a photo/video of the screen before the message disappears.
Steps to enable:
Open the chat where you want to start disappearing messages .
Tap the contact name or header to view chat settings.
Tap Disappearing messages.
Set your message timer anywhere from 5 seconds to 1 week and choose OK.
The chat header will include a timer icon and the chat will include an alert that disappearing message is enabled.
Also read: How to Open or Save as Webp Images in Photoshop
6. Blur Faces
Blur faces is yet another revolutionary feature offered by the signal app. With the aim of protecting people's identities, the Signal has added yet another useful feature in its app. This will help you protect your identity especially when facial surveillance system is on the rise around the globe.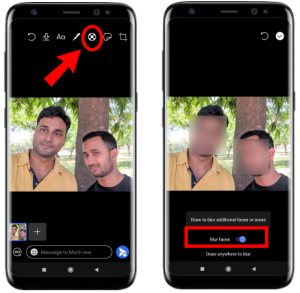 So, here's how you can use this tool in Signal:
Open up any of the chat thread from your list and tap the camera icon for adding images.
Select an image from your gallery.
Find the "Blur faces" button at the top toolbar and tap it to activate.
Toggle on the blur faces and the tool will automatically find the faces to blur. And of course, you can also manually select to blur faces also.
7. Self Destructive Images
The self-destructive Images is such types of messages where sent images will auto-destruct or disappear after a specific interval of time.
To use this trick,  just select the image and then tap on the "infinite icon" located at the bottom-left corner and change it to "1x". The image will automatically be deleted once the user opens it.
8. Create self Note
Many of the users on Whatsapp use this messaging service for note-taking or. Usually, they create a single user group and jot down the notes. Some users literally use a separate note-taking app which is in my opinion a complete waste of phone space.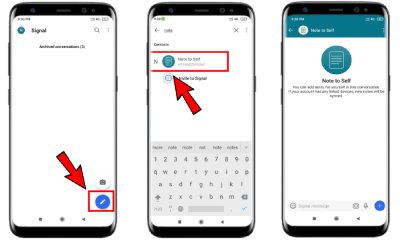 However, on Signal, you don't have to rely on workarounds as it natively offers a "Self Note" feature which works like butter.
So, here's how you can use this tool in Signal:
Tap on the Pen icon
Now search "note". You will find a note to self contact.
Tap on Not to self and start jotting down your notes.
Also read: How to enable WhatsApp disappearing messages feature on Android, iOS, KaiOS and Desktop
9. Relay Calls
This is one of the extraordinary features of Signal which is a boon for those who want extra tight security. Whats happens generally that internet call goes directly from peer to peer that may reveal your IP address. But if you use a signal relay call then all your call will go through the signal server. This in turn will protect your IP address identity.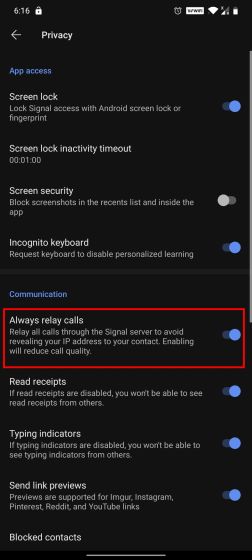 However, keep in mind, this will slightly reduce the call quality because of the network tunneling. Simply put, if you put privacy over performance then you should definitely use this feature.
Just open the Settings page and move to "Privacy". Under the "Communication" section, enable "Always relay calls" and you are done.
10. Incognito Keyboard



Incognito keyboard is one best feature of signal and everyone must use it always. Very few people know that your keyboard app tracks your writing behaviour and based on that they learn & personalize its service. If you think this is the breach of your data privacy then you should definitely try incognito keyboard feature.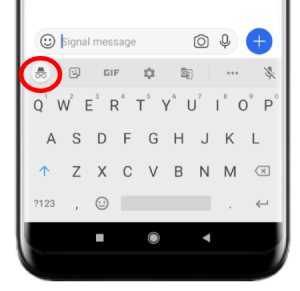 All you have to do is to go to settings > Privacy > and toggle on Incognito Keyboard. Not all keyboards support this feature I tested this feature while using Gboard on Signal and it indeed worked.
Make use of Best Signal Messenger tips and tricks
So these are my personal top 10 signal messenger tips and tricks. These are the tricks that everyone should know if they are planning to are already switched to the signal.